Posted December 15, 2021
MRA Offers Tips for Preventing Rooftop Snow Avalanches
Snow guards work to hold back rooftop snow and allow it to melt more gradually and predictably to prevent tragedies.
---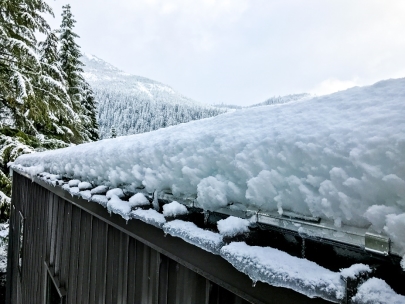 The first day of winter starts Dec. 21 this year, yet already freezing and sub-zero temperatures are hitting much of the U.S. and Canada.
For homeowners, it's a good reminder for how best to safely prepare your roof for snow and ice. The Metal Roofing Alliance (MRA) warns that when heavy snow accumulates on surfaces such as metal roofs that do not have quality snow guards installed correctly, the forces of nature can work to produce a rooftop avalanche. With the potential to release thousands of pounds of snow accumulation in a split second, such an occurrence can severely harm and injure people and property unless proactive precautions are taken.
"Snow guards–which work to hold back rooftop snow and allow it to melt more gradually and predictably–are designed to prevent senseless tragedies from occurring. They are absolutely essential in areas that experience snowfall and freezing temperatures," said Renee Ramey, MRA Executive Director.
While snow guards may seem like a simple concept, a well-designed system is based on math and science, not guesswork. If basic engineering principles are not followed, snow retention systems can be rendered ineffective–an accident waiting to happen. That's why, when installing and designing an effective snow guard rooftop system, homeowners and their installers/snow guard designers should:
Understand local snow loads: Contact your local building officials to get information on the ground snow loads in your area. A roof's potential snow load can be calculated from the ground snow load information.
Evaluate your roof's characteristics: Your roof's profile, material, slope, width of your panels, the rafter length (eave to ridge) and length of eaves help determine where your snow guards will be placed. Resources from industry leaders such as S-5! can help you determine what the profile of your roof is, if you don't know. The company also offers a handy, easy-to-use Snow Guard Calculator available online. Additionally, S-5! offers the option to have the final computations stamped by a professional engineer and recognized for use in all 50 states.
Approach placement with care: Snow guard placement should be well thought-out and prescribed by an experienced system designer or installer. To properly place snow retention systems, a clear understanding of roof geometries, how snow accumulates and how snow behaves on a metal roof is necessary. As a general guideline, the entire eave line of a building should be protected, rather than focusing on an isolated area of the roof. For safety's sake, avoid shortcuts such as placing snow guards only above doorways, which can make snow load shedding even more unpredictable.
Choose products you can count on: Primary snow guard system components should be fabricated from noncorrosive metals and have a life expectancy at least equivalent to the roof itself. Beware of any non-mechanically fastened, plastic components or adhered products: none of these options have the proven ability to remain in service for the typical expected roof service life. Choose only products that offer proper gauge and testing verification.

Homeowners also need to be aware that even with the potential of danger, there are currently no building or governmental codes, standards or requirements for the proper installation and use of snow guards. That means, ensuring your installer or roofing professional is using quality products from reputable manufacturers and following best practices set out by organizations such as the Metal Construction Association (MCA) is important.
Download MCA's "Qualifying Snow Retention Systems For Metal Roofing" for free at https://metalconstruction.org/index.php/online-education/Snow-Retention
"With a little care and planning, a reliable, well-designed snow guard system can provide great peace of mind and protect your home and family during severe winter weather for many years to come," said Ramey.
Representing the residential metal roofing industry in the United States and Canada, the Metal Roofing Alliance (MRA) was formed to help educate consumers about the many benefits of metal roofing. For more information about MRA membership, residential metal roofing resources and tools, visit MRA at www.metalroofing.com.