Posted December 28, 2021
Simpson Strong-Tie Releases 2021 Year in Review List Highlighting Best New Products, Innovations and Building Solutions
Top new products include Strong-Wall WSWH High-Strength Wood Shearwall, the Strong-Drive SD Connector SS Screw and more.
---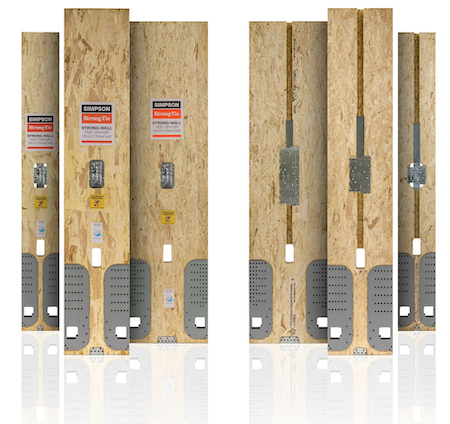 Simpson Strong-Tie, the leader in engineered structural connectors and building solutions, has released its annual Year in Review List, highlighting major new product launches, structural engineering solutions, and innovations introduced over the past 12 months.
New building solutions introduced by Simpson Strong-Tie in 2021 included innovations for a wide range of construction applications, from prefabricated shear walls to anchor and FRP solutions for concrete and masonry repair, to connectors and fasteners designed for extreme weather events and corrosive environments, to design and product specification software tailored for builders, architects, and DIY homeowners alike.
Strong-Wall® WSWH High-Strength Wood Shearwall: A versatile, high-performance solution for lateral-force resistance in light-frame construction, the code-listed, prefabricated WSWH has a patented design that provides the highest allowable loads for a wide variety of applications. Field trimmable for the ultimate in fit and flexibility at the jobsite.
Titen HD® Washer-Head Style Heavy-Duty Screw Anchor: A high-strength screw anchor for use in cracked and uncracked concrete and masonry where a minimal head profile is necessary. Suitable for use in sill plate applications, the washer head's low installed profile means modular wall and floor systems can be installed without the need for notching wall framing to accommodate the anchor.
HWDC Head-of-Wall Drift-Clip Connector: An ideal solution for adding strength to window or door jambs at head-of-wall connections, the HWDC features a unique design that permits anchor screws to be installed closer to the bend, providing a stronger and stiffer connection while allowing for horizontal and vertical movement during seismic and high-wind events.
Post-to-Beam Selector Web Application: This free web app allows users to find post-to-beam connection solutions to fit exact specifications with the assistance of 3D visualization. Product results can be sorted and filtered by installed cost, material, or coating.
44 oz. Flat Weave Carbon Fabric: This easy-to-saturate carbon FRP fabric joins a family of Composite Strengthening Systems™ for the structural reinforcement and strengthening of concrete, masonry, and timber structures. Upgraded with new, flat-weave fiber technology, the 44-oz. high-strength reinforcement fabric now saturates as easily and quickly as lighter fabrics, significantly reducing installation time.
Strong-Drive® SD Connector SS Screw: This stainless-steel connector screw is specifically designed to replace nails in certain Simpson Strong-Tie® stainless-steel connectors. Often easier and more convenient to install than nails, the single-fastener load values achieved by the SD SS screw exceed those of typical 10d common nails while providing excellent corrosion resistance in severe-exposure environments.
SPDW Strong-Drive® Deflector Screw: The line of fasteners designed to connect non-load-bearing, full-height partition wall top plates to trusses or joists while allowing for vertical movement without connector squeaks features an innovative polymer sleeve and provides both lateral resistance and the ability for walls to deflect with the truss or joist.
For more information on Simpson Strong-Tie building solutions and breaking news, including product photography and news releases detailing 2021 contributions to charitable causes and community and industry strength, visit news.strongtie.com.