Posted February 1, 2022
PSMJ Survey Forecasts Strong 2022 for AEC Firms
Only office buildings saw a drop in proposal activity during Q4 2021.
---

If the PSMJ Resources Quarterly Market Forecast is any indicator – and it has been an exceptional predictor of A/E/C industry economic activity for nearly two decades – 2022 will be another strong year for architecture, engineering and construction (A/E/C) firms in the United States and Canada. All 12 major market sectors surveyed on 4th Quarter proposal activity reported solid growth, and among 58 submarkets only office buildings saw a drop in proposal activity during 2021's final quarter.
Overall, the 4th Quarter QMF net plus/minus index (NPMI) of proposal activity growth across all sectors slipped slightly, from 36.5 to a still-solid 34.6. PSMJ's NPMI expresses the difference between the percentage of firms reporting an increase in proposal activity and those reporting a decrease.
Any NPMI value above zero indicates that more respondents are seeing an increase in proposal activity compared to the prior quarter (+100 indicates all respondents are seeing an increase, -100 indicates all respondents are seeing a decrease). The latest survey included 187 A/E/C executives in the U.S. and Canada.
The index for revenue growth among survey respondents fell in the 4th Quarter, from 43.4 in the 3rd Quarter to 15.0. This was likely due to the resurgence of COVID infections and their related protective measures, as well as the slowdown that often occurs during the holidays. Projections for growth in the 1st Quarter of 2022 drew an index of 45.7 (up from 31.2), while backlog was essentially flat at 39.5, down from 41.5.
"Any NPMI above 20 is very good," said PSMJ Director David Burstein, P.E., AECPM. "For the time being, all signs appear to point to robust activity in the A/E/C markets."
Water/Wastewater Leads Major Markets
Among major markets, Water/Wastewater recorded the highest NPMI at 69.6. Seventy-five percent of respondents reported more than 5% growth in water/wastewater proposal activity, while only 5.4% said that opportunities decreased, with the rest (19.6%) reporting flat activity. The Environmental market (66.7) was second in NPMI, followed by Energy/Utilities (66.0), Housing (59.0) and Healthcare (57.4).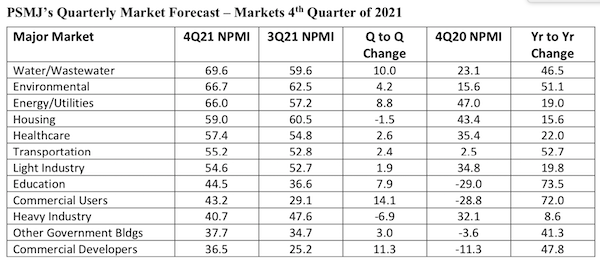 Commercial markets, though still among the lowest performers in terms of proposal opportunity growth, showed the greatest quarter-over-quarter increases. The Commercial Users sector NPMI rose 14.1 points to 43.2, while Commercial Developers jumped 11.3 to 36.5. Education continued its bounce with the highest year-over-year improvement (up 73.5 to 44.5).
Despite the promising outlook Burstein suggests that there are some potential headwinds for the A/E/C industry in 2022, including:
Rising labor costs squeezing profit margins if fees and revenue fail to also increase
Inflationary and supply chain pressures creating more project delays
Disruptive technology, which offers abundant opportunities for forward-thinking firms, but that could prove a formidable threat for others
PSMJ has been using the QMF as a measure of the design and construction industry's health every quarter since 2003, assessing the results overall and across 12 major markets and 58 submarkets. The company chose proposal activity because it represents one of the earliest stages of the project lifecycle.
About PSMJ:
For more than 40 years, PSMJ Resources, Inc. has been recognized as the leading publishing, executive education, and advisory group devoted completely to improving the business performance of A/E/C organizations worldwide.
For more information, go to http://www.psmj.com