Posted March 22, 2022
MAX USA To Attend JLC Live 2022
MAX will showcase its latest products at JLC Live 2022, March 24-26.
---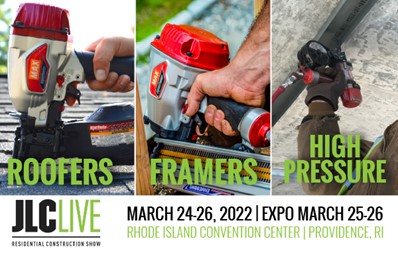 With trade shows making their full return, you will see MAX at many of them this year. Currently coming up, we have the famous JLC LIVE March 24-26, 2022!
JLC LIVE events are the most anticipated regional trade events of the year for residential construction. Remodelers, home builders, contractors, and other tradesmen and women learn from the leading industry experts through live, on-floor building clinics, demonstrations, and classroom-style conference sessions.
This year, MAX celebrates its 80th year anniversary. Come down to our booth to test out our PowerLite® and 100PSI tools. Ask about our special features of all our MAX professional grade tools! See you there!
JLC LIVE attendees can expect to see the hottest products, learn the newest building techniques, and expand their professional network through fun, free-to-attend networking events.
The JLC LIVE Residential Construction Show will take place March 24-26, Expo March 25-26, at the Rhode Island Convention Center in Providence, Rhode Island. Click here to learn more about the show.
Click here to learn more about MAX USA CORP. products.
MAX USA CORP. is headquartered in Plainview, NY, and is owned by MAX CO., LTD. which is headquartered in Tokyo, Japan. MAX has been recognized as a market leader in the quality manufacturing of tools for 80 years. MAX has several divisions employing more than 2,000 people worldwide, including 200 R&D engineers. MAX USA CORP is hiring, please check our website https://www.maxusacorp.com/careers for the most up to date openings.