Posted April 13, 2022
Simpson Strong-Tie Brings Concealed Beam Hanger to 2022 Mass Timber Conference with Historic Seismic Testing on Tap
Company to participate in world's largest mass timber shake table test scheduled for July 2022 at UCSD's Natural Hazards Engineering Research Infrastructure lab.
---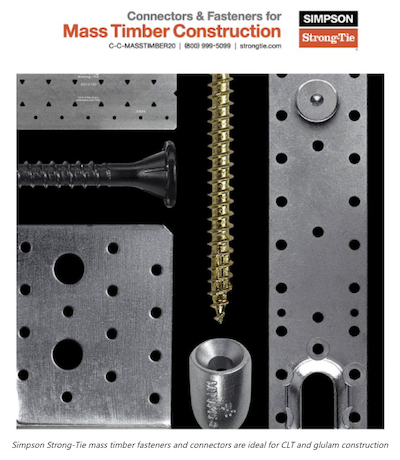 Simpson Strong-Tie, the leader in engineered structural connectors and building solutions, will bring its concealed beam hanger along with a suite of mass timber product innovations and construction solutions to the 2022 International Mass Timber Conference, April 12–14 in Portland, OR.
Since their development in the 1990s, cross-laminated timber (CLT) and other mass timber products have increasingly become a building system of choice for developers, specifiers, and contractors for creating larger and taller wood-framed buildings. Recognized as a green building product for its ability to sequester carbon, mass timber is proliferating as specifiers seek sustainable structural building materials and builders embrace the efficiency and reduced waste of factory-based construction solutions.
Rigorously tested and designed to provide strength across a wide range of designs, Simpson Strong-Tie mass timber fasteners and connectors are ideal for CLT and glulam construction and are offered through an established national network of construction suppliers for what-you-need, when-you-need-it availability. In July, Simpson Strong-Tie will join other research and development partners at UCSD's Natural Hazards Engineering Research Infrastructure (NHERI) lab to conduct the world's largest shake table test of a mass timber structure — a 10-story (112-foot) structure.
"Simpson Strong-Tie is proud to offer an expanded portfolio of smart solutions for mass timber," says Randy Daudet, director of Global Offsite Construction at Simpson Strong Tie. "The International Mass Timber Conference continues to be a focal point for sharing best practices in this unique and fast-growing construction segment, and we're excited to meet with partners, customers, and industry thought leaders as we prepare for seismic testing later this year."
The CBH Concealed Beam Hanger is specifically designed for glulam applications where the specifier desires the aesthetics and the fire protection of a completely hidden structural connection.. The CBH can be routed into the wood to provide a completely hidden factory-installed connection in which the supported beam can be rapidly craned into place onsite. The hanger has been tested to achieve one-hour and two-hour fire ratings as well as to withstand interstory drift in high-seismic applications.
This versatile connection is also load rated for hybrid connections between wood and steel or between wood and concrete or grout-filled CMU. Other key products to be showcased at Simpson Strong-Tie Booth #704 during the International Mass Timber Conference include the following:
The Strong-Drive® SDWS Timber screw that installs with less torque than comparable fasteners and is available in both interior and exterior coatings for a wide variety of mass timber applications.

The Strong-Drive SDCF Timber-CF fully threaded screw for mass timber construction and general interior applications where fast starts and excellent holding power are desired. Additional lengths in 10 mm-diameter SDCF fasteners will soon be available.

The Strong-Drive SDCP Timber-CP partially threaded screw engineered to pull structural members together with superb holding power and high pullout resistance. Additional lengths in 10 mm-diameter SDCP fasteners will soon be available.

The soon-to-be-launched Strong-Drive SDCFC Timber-CFC fully threaded, cylinder- head screw designed for mass timber and CLT construction that can be countersunk in applications where beam and/or splitting reinforcement are required. These yellow-zinc-coated, heavy-duty 10 mm-diameter fasteners will soon be available in lengths ranging from 19 5/8" (500 mm) to 39 3/8 " (1,000 mm).

The soon-to-be-launched E20/3 angle bracket, which has been load tested with up to a 2 " gap between the bottom of a CLT wall and the top of a concrete foundation. This gap allows the wall to be separated from the foundation with a pressure-treated sill plate, concrete curb, grout pad, or other specified material.

The soon-to-be-launched MTWS48 mass timber washer strap is a high-capacity tension strap utilizing MTW45-8 washers and inclined SDCF screws. The strap can be used in a variety of CLT diaphragm and CLT wall applications.
For an advance look at the entire Simpson Strong-Tie mass timber offering, and information about our national inventory availability and expert technical support, visit Simpson Strong-Tie in Booth #704 at the International Mass Timber Conference April 12–14 in Portland, OR.
To learn more about how Simpson Strong-Tie can improve your next mass timber job, visit go.strongtie.com/masstimber or call (800) 999-5099.