Posted May 18, 2022
Exclusive: Human Energy Shines Bright at University of Innovative Distributor 2022
2022 University of Innovative Distribution reenergizes distributor attendees.
---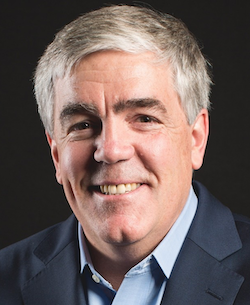 By Dirk Beveridge
Are you and your employees running on empty?
The pandemic put painful pressure on supply chains, health systems, schools and businesses, not to mention every essential worker worldwide. While much of the world closed up shop, distributors and their employees remained an essential part of keeping America running. Your employees were critical lifelines to your customers and communities, finding solutions where others only saw problems.
It's been over two years now. That adrenaline has started to wear off.
Companies, leaders and employees who are not routinely energized are at risk of burnout, fatigue and complacency. It's not just intense workloads or long hours that can deplete the enthusiasm in your business. It's a lack of humanity, cynicism and reduced feelings of personal accomplishment that are the catalysts for employee dissatisfaction, lowered performance and high turnover.
As the pandemic transitions into its new state, your company is still recalibrating from those pressures and learning how to adapt to new ones.
Right now, all eyes are on the cost of energy. Rising fuel costs are hitting us from every angle, causing added stress in our day-to-day lives and business endeavors. But that's not where I want to focus. Fuel prices will regulate, eventually, as they do.
What I am concerned with is human energy.
Refueling Human Energy in Your Business
Energy is more than the fuel we put in our tanks or a commodity to be traded. Our businesses and our communities are powered by human energy. The past few years, COVID has put that human energy through its paces, tapping into our team's reserves, which are on the verge of being depleted. The pressures of remote work, health, finances, childcare. Our workforce is tired.
It shows in human resources reports. Following the pandemic, a record number of people have quit their jobs. Low pay, no opportunities for advancement and feeling disrespected are among the top reasons millions quit their jobs in 2021, according to Pew Research. Call it the Great Resignation or the Great Shuffle, either way we are at a tipping point. We must act.
We need to refuel our people.
More than Education, UID Re-Energized Distributors
With this new reality, it's little surprise that our early research results show that around 90% of leaders throughout distribution believe that the human element will play an important role in leadership in a post-pandemic world (our research report will be published in early June).
Throughout my time on the road visiting distributors during my We Supply America Tour, I heard story after story of leaders doing just that. More recently, I witnessed it on a different level.
This spring, I was invited to present at the 2022 University of Innovative Distribution (UID) multi-day educational program for distribution professionals.
UID is a pillar of education and known for facilitating world-class education designed for the wholesale distribution industry. Each year, the Association Education Alliance (AEA) and the Department of Technology, Leadership and Innovation at Purdue University deliver concentrated education courses at the foundational, intermediate and advanced levels for UID attendees, who are a mix of up-and-coming talent and seasoned professionals.
I was honored to lead two classes during the session. They were:
● The Leadership Imperative
● Visionary Leadership: Crafting Your Vivid Vision
During those sessions, I saw distribution leaders inspired, driven by purpose and ready to be part of solving the challenges we face today – and those we'll face tomorrow.
One of the attendees in my Leadership session, for example, commented, "This course gave me the tools to completely turn our company around to create the best culture we can." While this type of feedback is always good to hear, my view is that this says more about the individual than it does this instructor. This individual, along with the other 400, came to UID after two unprecedented years with a yearning for learning, growth and development - wanting to make a positive impact - and yes to fuel their tank again. It was really an electric environment (pun intended!).
I witnessed:
Intense Focus — I arrived on the third day of UID after the attendees had already spent days in sessions. I was blown away by the intensity of focus each brought to the sessions. Heads were down, ready to work and ready to learn
Spirited Collaboration — It seemed after two years of lockdown and remote working, coming together at UID caused a chain reaction of interactions - formally in the classrooms and informally out in the hallways. Everyone sought opportunities to engage with others in ways that lifted each other's thinking and spirits.
Energized Commitment — Something seemed different here. I witnessed what I'll call an energized commitment from all the attendees, not just to attend the conference, but to return to their businesses with a renewed energy to make a significant difference with what they learned in Indianapolis.
Renewing Our Greatest Resource: Human Energy
The experience made me think back to an iconic commercial from over a decade ago in which Chevron discussed the greatest challenge of the time, balancing crude oil demands with the needs of the environment. They put it this way: "Everyone of us needs energy to live. Where will it come from?"
"Watch as we tap the greatest source of energy in the world: ourselves. This is the power of human energy," the announcer in the Chevron commercial declares as the ad closes out.
The truth is that people are what will drive this industry forward. Human ingenuity, collaboration and creativity are the foundation of innovation. But your team can't do it on an empty tank. The workforce needs insight, inspiration and connectedness, now more than ever.
UID delivered that.
After spending several days with these talented and inspired professionals and experiencing the charge of positivity from UID, I am more optimistic than ever that the future of distribution is bright.
Are you ready to spark the human energy around you?
Consider these questions:
● How are the people in your business doing - is their fuel tank full, half full, or running on empty?
● How will you refuel and energize your people in 2022?
● Will I see you and your team at UID 2023? CS
Dirk Beveridge is the founder of UNleashWD, Executive Producer at We Supply America, President of the Beveridge Consulting Group and Champion for the noble calling of distribution for over 36 years. His one-of-a-kind perspective on the future of wholesale distribution has guided his mission to advance the growth, relevance and transformation of the industry, helping distributors thrive. Learn more about Dirk by visiting WeSupplyAmerica.net.