Posted June 15, 2022
Metabo HPT Announces New Everyday Lower Prices on all 18V Cordless Nailer Kits
Tools include six different cordless framing and finish nailers.
---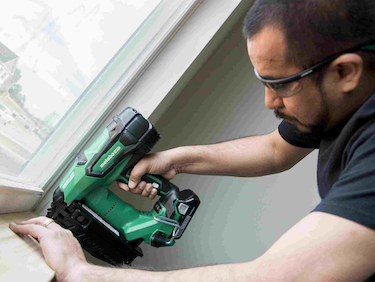 The Pro Preferred Brand of Pneumatic Nailers*, Metabo HPT today announced new everyday lower pricing on its popular 18V cordless brushless nailer kits.
These kits include 18V Cordless Framing Nailers (21° plastic strip & 30° paper tape) and 18V Finish Nailers (18-Gauge Compact Brad, 15-Gauge Angled, 16-Gauge Straight, & 23-Gauge Pin).
At a time when everything is going up, Metabo HPT wants to support the Pro and keep prices low.
By combining Metabo HPT's reputation from over 40-years of pneumatic nailer dominance with the reliability of proven cordless nailer performance since 2016, these cordless nailers are an efficient alternative on any jobsite offering freedom to move around. Forget the hassle of navigating long hoses and lugging heavy compressors and GO cordless! They are ideal for most framing and finish applications in single home and multi-family residential construction. Additionally, these cordless nailers are ideal for punch out work and remodeling applications.
The 18V cordless nailer lineup is part of the expanding MultiVolt System of 18V and 36V power tools from Metabo HPT. GO lighter with 18V batteries (included) or GO longer with the unique MultiVolt battery that works on both 18V and 36V tools to double runtime for up to 8.0Ah of runtime per charge and more power for ultimate versatility.
Backed by Metabo HPT's Lifetime Lithium-Ion tool body warranty and two-year Lithium-Ion battery warranty there's ultimate peace of mind with Metabo HPT's 18V cordless nailer lineup. For more information including the full line of Metabo HPT products and support, please contact 1-800-829-4752 or visit metabo-hpt.com.