Posted June 15, 2022
Morse Donation Rejuvenates High School Science Program
Engineering team organized equipment and materials to provide hands-on learning opportunities.
---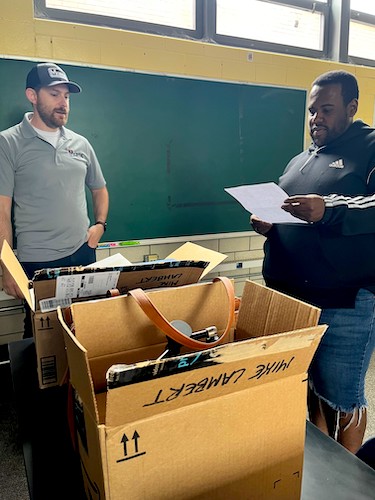 When you think of a high school science classroom, you might picture microscopes and lab equipment. But the reality is that many schools don't have the resources for hands-on learning and experiments.
Dominique Guyton is the science teacher at Stark High School in Canton, Ohio. Though he said he can deliver a college-style lecture with the best of them, students grow bored when they can't physically engage in any of their lessons.
Guyton was sharing his frustrations with friend Mike Lambert, a research engineer with the M. K. Morse Company, a global saw blade manufacturer also based in Canton. Through his own education, Lambert understands the importance of having hands-on opportunities in the classroom to stay engaged and excited about learning.
Lambert first worked with the engineering team at Morse to see if any older equipment from the Quality or Cut Lab would make for good donations to Guyton's school. When nothing was a good match, Lambert was approved to purchase $1,000 in new equipment for the high school program.
He secured a 3D printer and printing material, digital microscope and stand, maintenance tool set, petri dishes, beakers and cylinders for Guyton, a six-year veteran at Stark High School. He also organized digital files with links to usage, software, and maintenance information to help ease Guyton's learning curve on the new equipment.
"The students will be so excited," said Guyton, who had used his own salary to buy books, learning materials, and equipment in the past. "I want to do a lot of hands-on learning, but it comes at my own expense and it can be challenging. This is going to offer a beautiful start for next year."
Morse is excited to do its part in helping to inspire students to further their education.
"What we hoped to achieve is keeping kids engaged in math and science," Lambert said. "The new equipment can help correlate the science Dom is teaching with a real-world application."
Guyton also hopes to bring his class in for a Morse plant tour and a few hours with the engineering team to get a better understanding of how important a role science plays in product development.
At Morse, supporting the community that we call home is a priority that benefits us all. About The M. K. Morse Company For more than 50 years, The M. K. Morse Company has been manufacturing a wide range of innovative cutting solutions. Whether you need to drill holes, cut metal using power tools, or saw metal in a factory, Morse has the right blade for the job.
As a second-generation family-owned business, we take pride in providing solutions for our customers. We are inspired by the belief that there is always a better way to cut and our team of researchers create and translate innovative ideas into advantaged solutions that deliver the best value for our end users. Available in more than 70 countries, nearly all Morse products are manufactured in Canton, OH, USA. For more information, visit mkmorse.com.