Posted June 29, 2022
Husqvarna Rebrands Blastrac and Diamatic Surface Prep Lines
The fully integrated offering including floor scrapers, shavers, scarifiers and floor grinders is now available.
---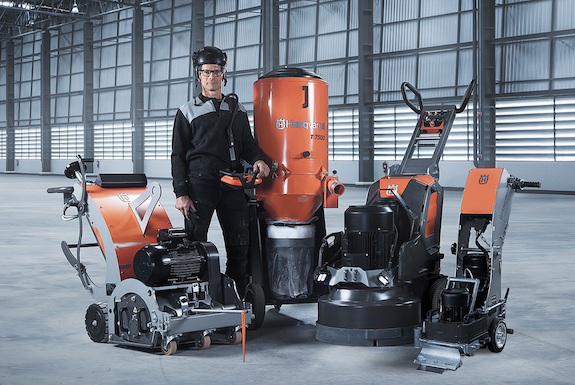 Husqvarna Construction launches the first wave of its recently rebranded Blastrac and Diamatic surface preparation product range. As of June 17, the fully integrated offering including floor scrapers, shavers, scarifiers and floor grinders is available to order in the United States and Canada.
With the first wave of rebranded Blastrac and Diamatic products, Husqvarna Construction further shapes and complements it's offering for floor grinding, scarifying, shaving and scraping. Levi Smiley, Product Marketing Manager for Surface Preparation, outlines the new product offerings:
"Bolstering Husqvarna's current concrete grinding offering comes some exciting new products – with the addition of scarifiers, scrappers and shavers. We have one of the best offerings in each application and product segment, because we are striving to not only be specialists in the surface preparation industry, but also the partner of choice for customers."
Floor Scrapers
Walk-behind and ride-on scrapers can be used to remove soft and hard resilient floor coverings, adhesives and coatings in electric, battery and propane powered options.
Floor Shavers
Our walk-behind elite concrete shaver and ride-on milling machines are chosen when rapidly achieving enhanced depths in a controlled pattern are desired.
Scarifiers
Level large surfaces and remove thick coatings. They quickly and cleanly remove concrete to help level slabs, expose large aggregate before concrete polishing and coatings removal in demolition applications.
Single & Planetary Grinders
Remove coatings, prepare and polish concrete floors with the new product line featuring electric and gas single disc grinders, and the blending of new planetary machines in both electric and propane footprints.
The second wave of rebranded Blastrac products, targeting Spring 2023, will include shot and steel-blasting solutions and associated dust extractors. For now, these products are available under the Blastrac brand.
We have considerably enhanced the existing Husqvarna surface preparation portfolio by bringing advanced shot-blasting, scraping, shaving and scarifying solutions to Husqvarna customers and partners. In turn, Blastrac customers and partners now have access to adjacent products such as compactors, concrete placement equipment, sawing & drilling equipment and demolition robots, as well as a wide service offering. Levi Smiley concludes:
"By combining our expertise, we will offer 373+ years (333 Husqvarna + 40 Blastrac/Diamatic) of deeper know-how to our surface preparation customers. With wider options, and as one passionate team, we are committed to shaping the surface preparation industry of tomorrow."
HUSQVARNA CONSTRUCTION is a leading producer within the light construction equipment business. The range includes machines and services for concrete sawing & drilling, concrete surfaces & floors, and remote demolition, as well as diamond tools for construction and stone industry. Our products are sold and serviced worldwide through an extensive network of service centers and distributors covering more than 70 countries. Husqvarna is a registered trademark owned by Husqvarna AB (publ)