Posted August 16, 2022
FastenMaster Launches New Online Experience for Contractors
New site provides quick access to product information, technical documentation, product support content and distributor locator.
---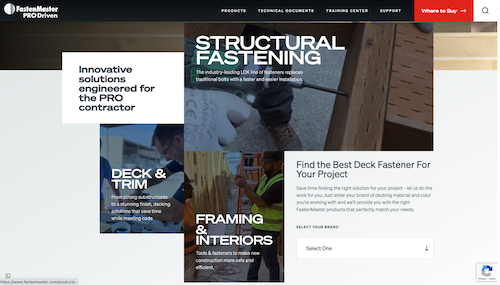 FastenMaster, a division of OMG, Inc., has launched a newly reimagined online destination for PRO contractors at FastenMaster.com.
The new site has been designed from the ground up to provide professional contractors, specifiers, engineers, and framers with quick access to product information, technical documentation, product support content such as the popular 'Ask the FastenMaster' videos, as well as purchasing information at thousands of locations nationwide.
In addition, the new website platform enables unique interactive experiences, such as the all-new and exclusive Decking Color Match tool. This new tool enables PROs and lumberyards to select from hundreds of composite decking boards supported by FastenMaster and instantly see which plugs, clips, and screws are a perfect match for the specific board and color.
Besides being easier to navigate, the site includes an improved search function as well as a robust training center with detailed product information and videos. In addition, users can reach out directly to FastenMaster's dedicated technical support team via an online form, where most questions are answered within 48 hours.
"Whether building one deck or 500 homes, PRO contractors are primarily looking online for technical information, advice, and new product information from innovative manufacturers, such as FastenMaster," said Shaun Jennings, marketing communications manager. "With more than 50,000 followers on our social media channels, the new web experience not only increases our ability to reach builders online, but also enables us to reinforce our PRO Driven message."
Established in 1981, FastenMaster is a brand of fastening solutions for professional contractors. Its products are engineered for structural, decking, and trim applications in residential construction, and its product line includes the LOK Line of structural wood screws, Tiger Claw Hidden Deck Clip System, TrussBRACE roof truss support system, as well as Cortex Hidden Fastening Systems for deck and trim applications.
For additional information please visit the new site at FastenMaster.com, or contact FastenMaster at 800.518.3569.