Posted September 7, 2022
Toter and Revolution Company Become Evergreen Preferred Suppliers
New suppliers produce trash containment and vapor barrier products.
---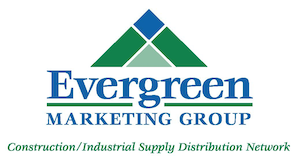 The Evergreen Marketing Group is excited to announce Toter as a Preferred Supplier in the contractor supplies category and the Revolution Company as a Preferred Supplier in the polyethylene category.
Toter® offers a complete solution for trash containment and removal needs. Toter's products are designed to complement any setting with aesthetically pleasing designs and color options. Toter's patented rotationally molded process means their products are as durable as they are attractive. Toter's breadth of product offerings and innovative features specifically designed for the professional user enhance functionality and ease of use.
"Toter's addition increases a greater reach in the contractor supplies product category with products such as tilt trucks, round cans and lift carts," stated Bill Ward, CEO of Evergreen, "We are excited to have them on board as a Preferred Supplier."
Revolution is committed to creating and championing sustainable poly loop solutions that help preseve the environment. Through their unique, circular approach to production; Revolution collects, recyles, and manufactures plastic film using up to 97% certified post-consumer recycled resin.
Revolution's Sustainable Commerical Solutions Division (formerly known as Rodeo) is based in Mesquite, TX where they manufactures high quality plastic sheeting and bags.
"Adding Revolution to Evergreen is a great step towards increasing our presence in the polyethylene category with products like vapor barriers, poly-sheeting and contractor bags," stated Ward. "We are excited to have them on board as a Preferred Supplier."
The Evergreen Marketing Group is a member-owned cooperative founded in 1989 by six construction/industrial supply distributors. It currently consists of 50 distributors with more than 350 locations in the United States and Canada and has combined revenues of more than $4.5 billion dollars. The group is focused on driving growth and profitability of its Members and Preferred Suppliers through an on-going program of training & education, business development and partnering.
Evergreen maintains a state-of-the-art 14,000 square foot training center in Farmer's Branch, Texas and offers the industry's only professional certification program for distributor sales and operations people. Evergreen Members are the leading distributors of tools, fasteners, concrete accessories, and other construction/industrial products.
For more information, contact Chase Vandiver at 1-800-859-8733.