Posted October 11, 2022
Makita Launches new Outdoor Adventure Line
New cordless products line builds on Makita's 18V | 36V LXT battery system.
---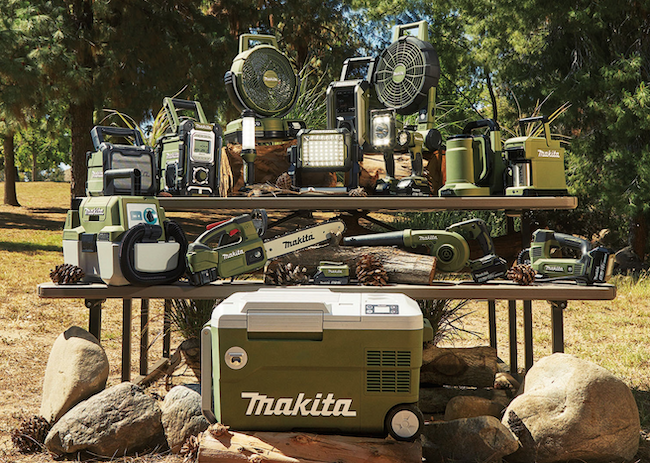 Makita's new Outdoor Adventure™ Products feature advanced technology, delivering maximum performance and efficiency for the outdoors. Get outside with Outdoor Adventure™, a new range of cordless products that operate within the LXT® System. The camo-green color says "weekend" and the seamless compatibility takes you from the job site to the outdoors in one system.
The first products in the line include:
Blower & Vacuum

Chainsaw

Coffee Maker

Fans

Inflator

Lighting

Power Source

Radio & Speaker
Coming soon are a 36V (18vx2) LXT Hot Water Kettle and an 18V x2 LXT Lithium-ion 12V/25V DC auto and AC Cooler/Warmer.
The new line is designed to be ideal for boating, camping, climbing, fishing, hiking and tailgating activities.
ILLUMINATE THE CAMPSITEOutdoor Adventure™ Work Lights and Flashlights deliver reliable, long-lasting illumination. When it's time to break camp, use the Outdoor Adventure™ Blower and Vacuum to clean your tent, trailer or RV.
PERFECT BEACH DAYSSunshine, cold drinks and the perfect playlist complete the picture for a day at the beach. The Outdoor Adventure Bluetooth® Speaker and Cooler/ Warmer are equipped with durability features for improved resistance to sand and salty ocean air.
WIN THE TAILGATEOutdoor Adventure™ has the products you need to win your tailgate party. Stack your pregame starting line-up with an Outdoor Adventure™ Light, Fan, Radio and, of course, the Cooler.
Click here to learn all about the new lineup.