Posted November 16, 2022
Builders Hardware Manufacturers Association Names New Executive Director
Rosario Palmieri joins BHMA from the White House Office of Management and Budget and NAM.
---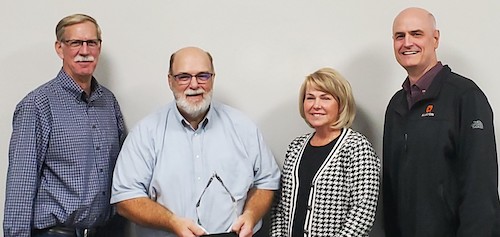 Rosario Palmieri was named the new executive director of the Builders Hardware Manufacturers Association (BHMA) during the group's annual meeting, held in Indian Wells, California, on October 12.
Palmieri, who will take the helm on Jan. 1, 2023, has been working in tandem with the association's current Executive Director Ralph Vasami and the board of directors for the last year in anticipation of this transition. Vasami, who joined BHMA in 2004 and became the executive director in 2007, will remain an active contributor to BHMA as he steps into the role of treasurer.
Palmieri brings considerable experience to BHMA having most recently worked for the White House Office of Management and Budget after spending 10 years with the National Association of Manufacturers (NAM). In taking on this new role, Palmieri noted, "As the builders hardware industry continues to evolve, I look forward to the challenges ahead as BHMA's standards and codes initiatives respond to technological advances, security priorities, and regulatory issues."
As Vasami made the announcement, he said, "Rosario's experience in legal, regulatory policy, and consumer safety make him the perfect candidate to lead BHMA. Palmieri is poised to take BHMA into the next era, making a significant impact for BHMA and the builders hardware industry."
About the Builders Hardware Manufacturers Association (BHMA): The Builders Hardware Manufacturers Association (BHMA) is an industry leader in building safety and security. BHMA is the only organization accredited by the American National Standards Institute (ANSI) to develop and maintain performance standards for locks, closers, exit devices and other builder's hardware. The widely known ANSI/BHMA A156 series of standards describes and establishes the features and criteria for specific types of hardware products. In addition, BHMA® sponsors third-party certification of hardware products, which is a requirement for a product to bear the "BHMA Certified" mark — ensuring that the product meets the ANSI/BHMA standard.
For more information on BHMA, visit the website at www.buildershardware.com.