Posted November 21, 2022
ESAB Partners With Stanley Black & Decker to Launch Renegade Volt Battery-Powered Stick/TIG Welder
ESAB Renegade VOLT ES 200i is powered by four DEWALT FLEXVOLT batteries; also uses 115/230V primary power.
---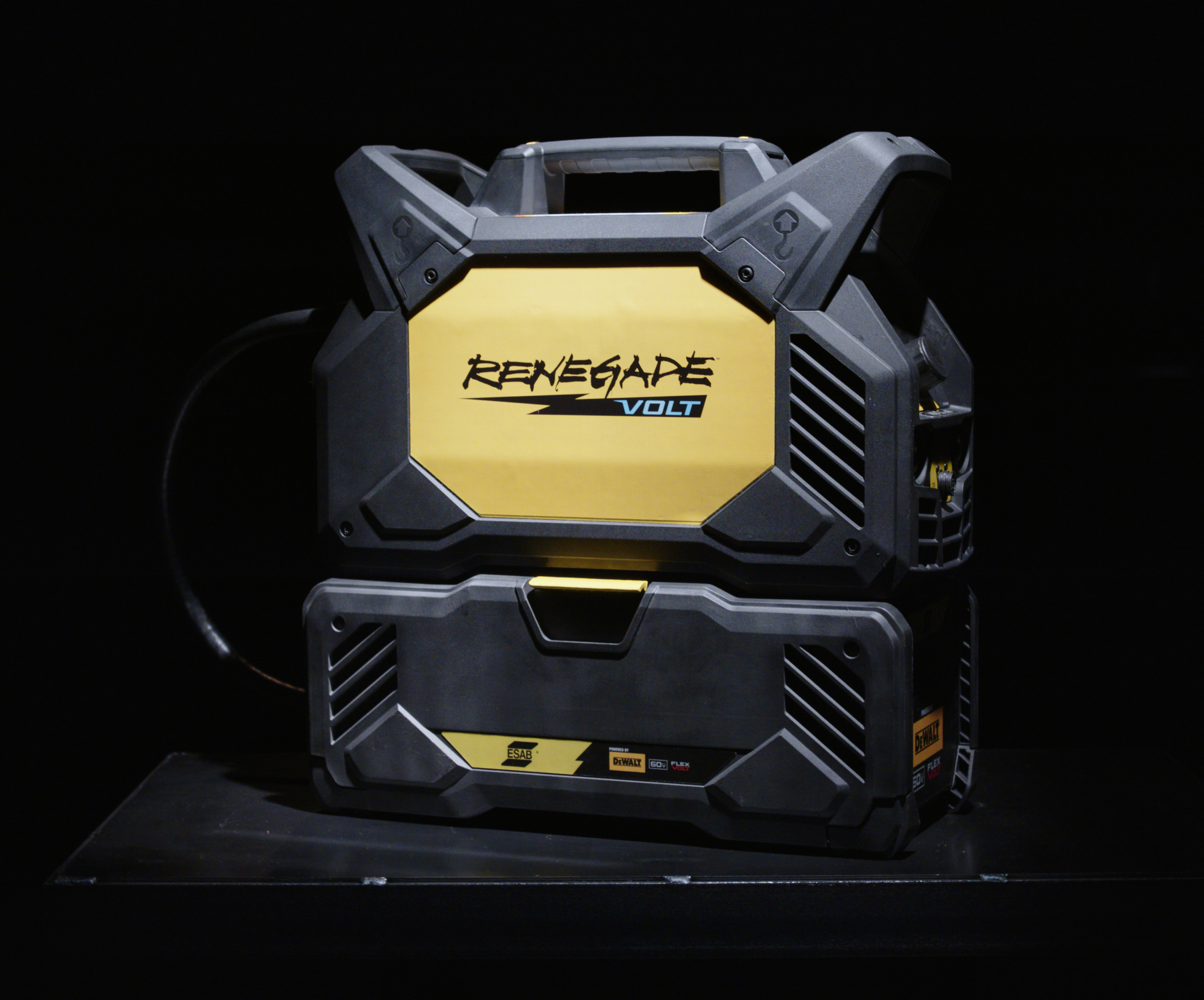 ESAB, a world leader in fabrication technology, unveils its Renegade VOLT™ ES 200i Stick/TIG battery-powered welding system, developed in conjunction with Stanley Black & Decker.
Powered by four DEWALT® FLEXVOLT® 12 Ah (amp-hour) batteries, Renegade VOLT offers maximum welding output of 150A on battery power.
It also connects to 115/230V AC primary power and provides a maximum welding output of 210A on 230V primary. VOLT is an efficient, robust, and portable machine for tough jobs in the field and has the battery power and performance to weld through a standard work shift.
Portable and Powerful
"Renegade VOLT ES 200i revolutionizes the industry as the first-ever interchangeable battery-powered welder," said Flavio Santos, Vice President & General Manager, Global Equipment Solutions, ESAB Corporation. "Through our collaboration with Stanley Black & Decker, Renegade VOLT offers contractors the benefit of using batteries that work with any other DEWALT FLEXVOLT-compatible hand tools for jobs in difficult-to-reach locations, locations without power, and applications where portability and quick set-up provide operational efficiencies."
The Renegade VOLT battery box can detach for easier transportation, or when connected to 115/230V power; it also enables users to hot swap the batteries so they can continue welding without interruption. A four-port fast charger (included) charges the batteries from zero to full charge in about 100 minutes. The unit weighs 40 lbs. with the battery box and 25 lbs. when the box is detached. The product will be available for sale in early Q1 2023.
"Renegade VOLT offers a more portable and affordable alternative to engine drives for off-the-grid welding," said Peter Burchfield, Global Director for Light Industrial Products at ESAB. "At 40 lbs., it's a fraction of the weight and size of an engine drive. Renegade VOLT eliminates many of the costs and hassles of engine drives, including fumes, fuel costs, noise, and the need to drag hundreds of feet of heavy and expensive welding cables or extension cords. With the ability use 115V or 230V AC primary power to tackle larger projects, Renegade VOLT provides ultimate location flexibility."
Applications that benefit from Renegade VOLT's location flexibility include maintenance and repair, construction, shipyard, rail, power generation, offshore and farm/agriculture.
Best-of-Class
"Renegade VOLT builds on the success of ESAB's Renegade inverter-based welding platform, which offers best-of-class arc performance to meet the needs of demanding welding professionals," said Bartosz Kutarba, Global Product Manager, ESAB. Renegade VOLT uses a next-generation current control module with built-in intelligence that can detect and clear a short circuit or manage current transients faster than the microprocessor controls used on other units, minimizing spatter, and creating a stable, more controllable weld pool.
In Stick mode, Renegade VOLT features include adjustable Hot Start, which fine tunes the optimal energy during the arc starting sequence for improved strike performance and reduced sticking. An Adjustable Arc Force function enables the operator to adjust the arc characteristics so that they are crisper or softer, tailoring the arc for different electrodes, applications, and operator preferences. Preferences can be stored in one of three memory functions.
In TIG mode, Renegade VOLT provides Live-TIG for arc starts without high-frequency. Users access all TIG and Stick functions from an easy-to-read color-coded graphical interface.
About ESAB
ESAB is a world leader in fabrication technology. For more than 100 years ESAB has transformed industries built by fabricators, providing complete workflow solutions through our diverse portfolio of products from more than 40 of the most trusted brands in welding and cutting in the world. From industrial demands to repair and maintenance, innovators that shape the world rely on ESAB's portfolio. To learn more, visit ESAB.com/SparkWeek