Posted November 30, 2022
IronCraft Announces New HR Director
Wesley Skinner joins IronCraft from Creative Foam.
---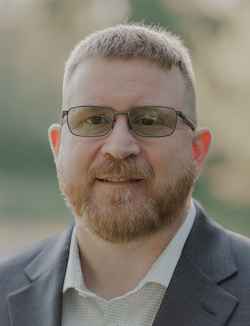 IronCraft, LLC, formerly branded Titan Implement, has named Wesley Skinner as its new Director of Human Resources. He joins IronCraft after serving in various Human Resources and Environmental Health & Safety roles in manufacturing entities, most recently as HR Manager for Creative Foam in Athens, TN. Skinner is a veteran of the US Army. As Director of HR, Skinner is responsible for planning and implementing all recruitment and retention activities, safety training, continuous improvement, leadership training, and more.
IronCraft CEO Pat Kozlowski stated, "We're excited to have Wes join the management team at IronCraft. With our new factory under construction, we're adding hundreds of employees so recruitment and retention will be very important roles. His Kaizen experience and genuine "soft side" people skills will be a great asset to the company."
"I'm thrilled to join IronCraft and look forward leading the Human Resources team," said Skinner. "We have a great history of product innovation and customer focus, and I'm eager to contribute to strengthening the HR culture of excellence."
About IronCraft, LLC
IronCraft, LLC, founded in 2014 under the Titan Implement brand by the Turner family, is a leading manufacturer of agricultural implements and skid steer attachments catering to a variety of applications such as agriculture, landscaping, light construction, and more. Based in east Tennessee, IronCraft offers an extensive range of rotary cutters, rotary tillers, box blade scrapers, grader blades, landscape rakes, disc harrows, and skid steer attachments. For more information, please visit www.ironcraftco.com.