Posted January 11, 2023
Simpson Strong-Tie Opens Applications for Student Scholarships
Online scholarship application for the 2023–2024 academic year is now available.
---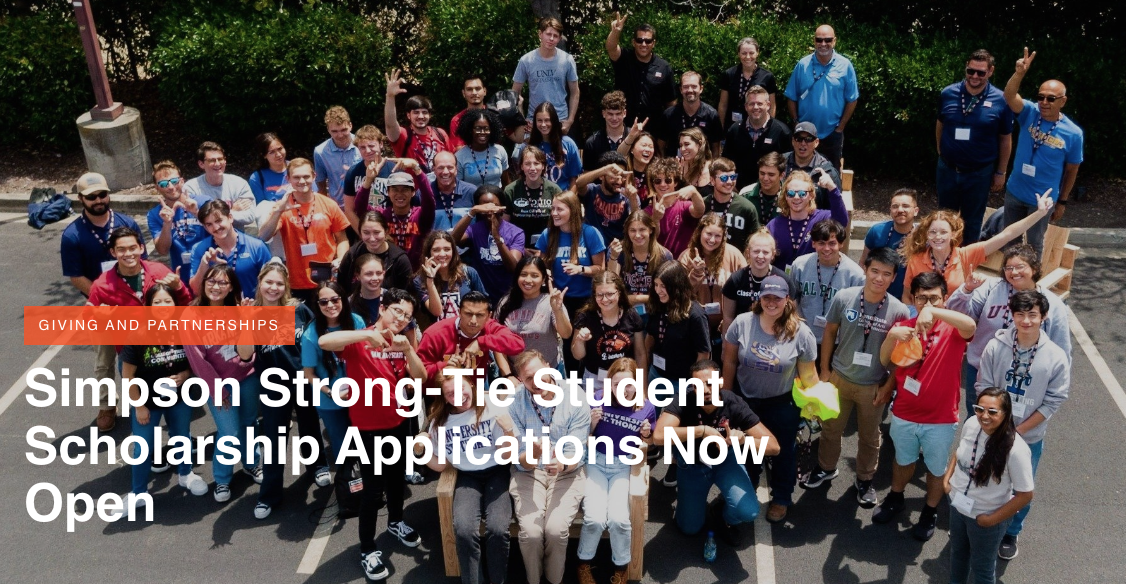 Simpson Strong-Tie, the leader in engineered structural connectors and building solutions, has announced the opening of the application window for its Student Scholarship as part of the company's Strong-Tie Undergraduate Fellowship. The online scholarship application for the 2023–2024 academic year is now available to students in participating universities at strongtie.com/scholarships.
The deadline to apply is March 17, 2023. Awards are for undergraduate study only (junior and senior years) in civil/structural engineering, architecture and construction management.
The Strong-Tie Undergraduate Fellowship provides recipients of the company's Student Scholarship with access to industry contacts, relevant training, job leads, peer connections and community, plus an insider's look at Simpson Strong-Tie as an industry leader in structural systems research, testing and innovation. Through their participation, recipients can build the industry knowledge and network to help maximize their future professional growth and success.
The Student Scholarship assists university students in meeting their education costs. Up to 100 scholarships of $2,000 per recipient are awarded every academic year to university students from more than 100 participating schools.
The Simpson Strong-Tie Student Scholarship is administered by Scholarship America, the nation's largest designer and manager of scholarship and tuition reimbursement programs for corporations, foundations, associations and individuals.
About Simpson Strong-Tie Company Inc.
Simpson Strong-Tie is the world leader in structural solutions — products and technology that help people design and build safer, stronger homes, buildings, and communities. As a pioneer in the building industry, we have an unmatched passion for problem solving through skillful engineering and thoughtful innovation. Our structural systems research and rigorous testing enable us to design code-listed, value-engineered solutions for a multitude of applications in wood, steel, and concrete structures.
Our dedication to pursuing ever-better construction products and technology and to surrounding our customers with exceptional service and support has been core to our mission since 1956.
For more information, visit strongtie.com