Posted January 13, 2023
Subcontractors Trade Association Selects Felice Farber as New Executive Director
STA is New York's leading association of union subcontractors.
---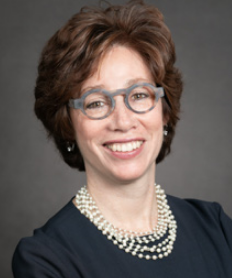 Felice Farber has been appointed as Executive Director of the Subcontractors Trade Association (STA), breaking barriers as the first woman to hold this leadership role in the Association's 66-year-old history. Farber will replace retiring Henry (Hank) Kita who has served as STA's Executive director for nearly a decade.
The STA is New York's leading association of union subcontractors, advocating for its over 350 members that include many of New York's leading union subcontractors. STA's mission is to improve and enhance theireconomic position in New York's complex construction industry.
STA's new Executive Director Felice Farber, a widely regarded expert and accomplished champion for New York City's construction industry, said, "I am excited to ardently advocate for and uplift STA's membership by using my experience helping subcontractors navigate the industry's thorniest issues." Previously, for over a decade, Farber served as Senior Director of Policy and External Affairs for the General Contractors Association (GCA) of New York, a 300 plus member trade association representing the unionized heavy civil construction industry in New York City.
Anthony Acerra, STA President, said, "Farber will be a leading voice of change in construction at STA, utilizing her vast experience in successfully influencing the industry to further advance our mission of Building New York Better."
"Felice Farber has been instrumental in supporting the union construction industry in New York and throughout the region," said NY State Senator Leroy Comrie (D, 14th SD). "As Chair of the NYS Committee on Corporations, Authorities, and Commissions, I've witnessed Farber's dedication to improving the position of construction contractors at all levels, and am thrilled to see her in her new leadership role at STA."
"Farber has a fierce tenacity for improving the success of subcontractors in the complex construction industry, especially with MWBEs facing an uphill battle. "It's wonderful to see more women assume groundbreaking leadership in construction," said Assemblymember Rodneyse Bichotte Hermelyn (D-AD 42), Assembly Majority Whip and Chair of the Subcommittee on Oversight of MWBEs.
"Felice Farber is a game-changing professional, both for the union construction industry and women in New York State," said Assemblymember Rebecca Seawright (D-AD 76), the first woman to serve her district, and former Chair of the Majority Steering Committee, Chair of the People With Disabilities Committee, Director of the Legislative Women's Caucus and a member of the Ways and Means; Banking; Codes; Higher Education; and Judiciary Committees.
Christine Boccia, STA's first Vice President and the newly elected President of the Women Builders Council, said, "Farber and I advocate for women in the industry at the Women Builders Council. I'm excited to see her bring that ambitious leadership to the STA."
"Farber brings vast private, public and community experience to the STA. I'm confident the STA is in great hands with her leadership," said outgoing STA Director Henry "Hank" Kita, lauding Farber's earlier work in City Government and vast relevant private sector experience.
Learn more at https://stanyc.com.