Posted February 6, 2023
MAX Offers a Cool Promo on Coil Nailers
SuperSider CN565S3, SuperFramer CN890F2 and SuperDecking CN665D all carry limited-time discounts.
---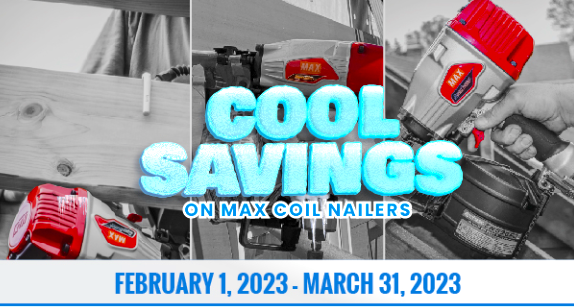 Running from February 1 – March 31, MAX is excited to kick off the new year with a Promo! This promotion will give you discounts on our three most popular coil nailers! Fill your tool box with your decking, siding, and framing needs. This Promo will be available all across U.S. and Canada.
The SuperSider® CN565S3, SuperFramer® CN890F2 and the SuperDecking® CN665D will all come with cool savings!
MAX encourages both its existing and new customers to reach out to their local MAX sales rep so that they can take advantage of this limited time offer. MAX is committed to manufacturing reliable tools that have been designed to deliver enhanced performance while making sure that users can carry out safe operations.
*Promo price for tools available only for a limited time while supplies last. Promo date may be subject to change.
*All MAX products are protected by registered patents and design rights including trademarks.
For details, please contact MAX.
About MAX USA Corp.
MAX USA CORP., a subsidiary of Tokyo-based MAX Co., Ltd., is a worldwide leader in the manufacturing and distribution of professional-grade power tools and accessories. For 80 years MAX has utilized its expertise and ingenuity to manufacture and distribute the highestquality tools that include pneumatic nail guns, staplers, and compressors, the first battery operated and stand-up rebar tying tools, fasteners and tie wire, including Buy America Certified. Headquartered in Plainview, NY, MAX USA is part of the vast network of MAX locations that employ more than 2,000 people worldwide, including 200 R&D engineers.
For more information, please visit www.maxusacorp.com.