Posted March 28, 2023
Report: Profitability a Primary Concern for Home Builders in Current Climate
2023 SORCI Report confirms 63% of builders generate net margins of 10% or less.
---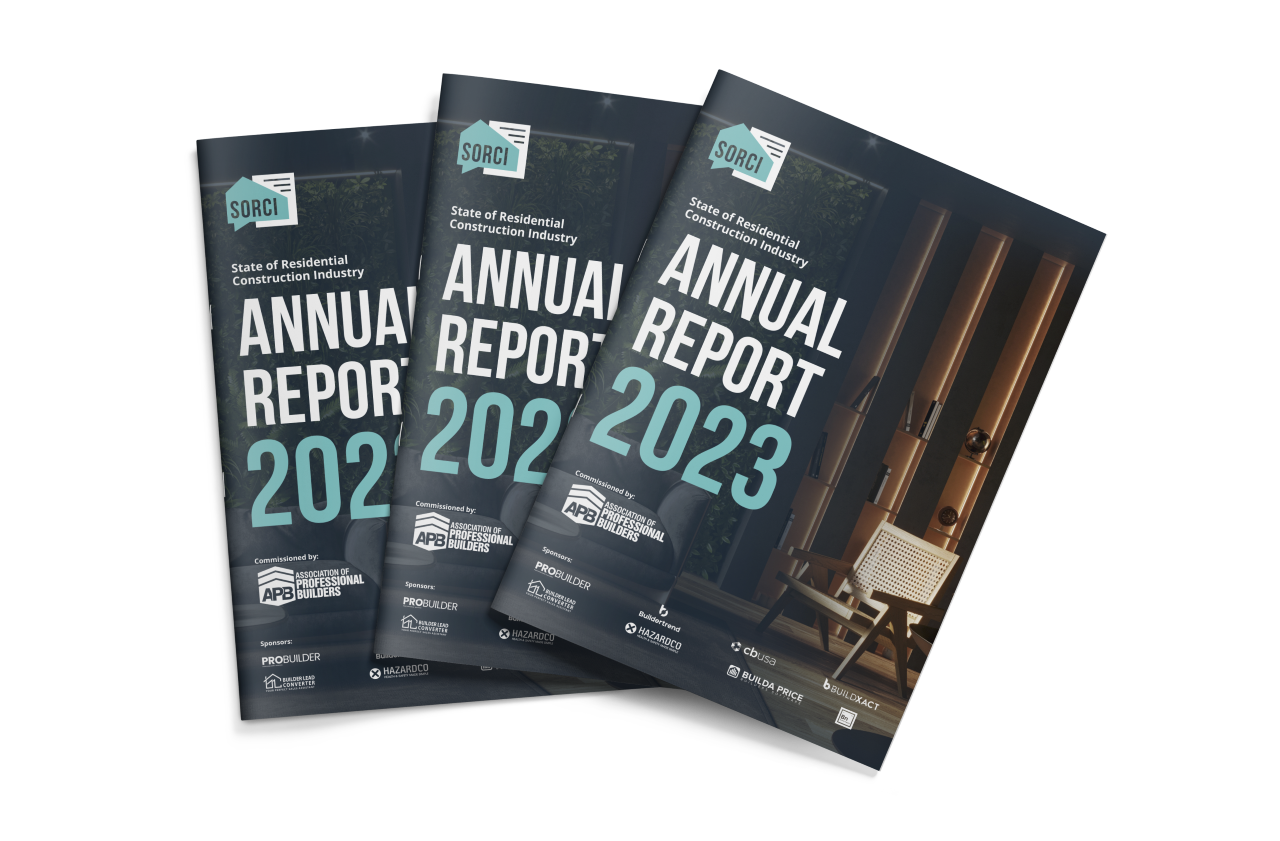 Builder profitability is a key concern highlighted by the 2023 State of the Residential Construction Industry (SORCI) Annual Report , which was released today.
Description automatically generated with medium confidenceOf the 1,000 residential builders surveyed by the Association of Professional Builders (APB), 45% reported profit margins between 2.5% and 10% in 2022. The same survey found that more than half of all respondents plan to maintain their investment in construction software to help improve business practices.
Delivering projects on budget also presented more challenges for building companies in 2022, with 38.3% of projects finishing up over budget compared to 28.7% in 2021.
The APB's annual SORCI Report is commissioned by Buildxact --a global Software-as-a-Service company that provides a simple solution for dealers, residential builders and remodelers to better manage and grow their business-- as part of the company's ongoing commitment to assist residential home builders with setting up stronger, more reliable business practices to grow profit margins, amid rising economic concerns.
"Home builders know they have to become more efficient with their time and generate more profit to have long-term success," Chris Rennie, Buildxact Executive VP of Customer Experience and Product said. "The key is a repeatable business practice to cover project costs and overhead to earn the profit they deserve; something construction project management software, like Buildxact, offers a solution to do."
Construction estimating and management software, like Buildxact, lets builders access one platform to quickly transition from material takeoffs and estimating, to scheduling and project management. Built-in dealer collaboration tools and real-time price list integrations also allow builders to accurately quote projects significantly faster than traditional means.
Builders can also use project management software, like Buildxact, to better understand project tasks and communicate those tasks and expenses to customers, all while reducing administrative time and tracking costs.
About SORCI 2023 Annual Report and The Association of Professional Builders
The State of Residential Construction Industry (SORCI) Report is prepared by APB. Results are indicative of answers from 1,000 surveyed residential home builders operating in the United States, Australia, Canada and New Zealand.
APB works exclusively with residential home building companies. In particular, the owners and directors of small and medium sized construction companies who are looking to systemize their businesses, grow their margins and/or their sales revenue and transform this industry.
APB's goal is to increase the number of professional builders and improve the industry for both builders and consumers. APB provides training and resources for builders to use to systemize their building companies and become professional builders.
This report was commissioned by Buildxact and other industry partners to gather a deeper insight into the residential construction industry and spot emerging trends in order to enable building company owners to benchmark their own businesses against industry benchmarks.
About Buildxact
Buildxact gives custom home builders, contractors and dealers control of their business to get the job done. Using simple features, job estimates take less time and ordering materials is possible 24/7 using integrated member price lists. Founded in 2011 in Australia with North American headquarters in Austin, Texas, Buildxact continues to expand its global presence with customers in the US, Canada, the UK, Australia and New Zealand. For more information about how builders and dealers benefit from Buildxact, visit the Buildxact website.