Posted April 12, 2023
National Stand-Down to Prevent Struck-By Incidents
Accident awareness event will run April 17-21.
---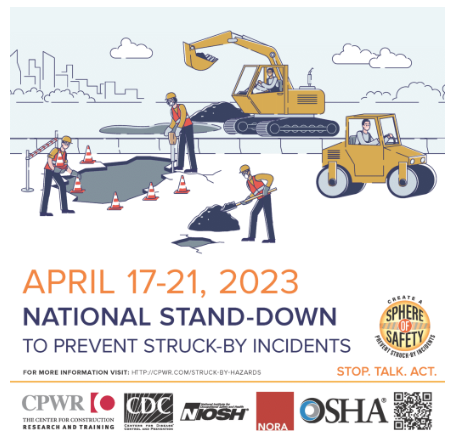 WHAT: National Stand-Down to Prevent Struck-By Incidents: Companies are encouraged to pause work where they are and provide a safety talk, conduct safety inspections, or discuss common struck-by hazards and prevention with construction workers.
WHEN: April 17-21
WHO: Construction industry: Employers, managers, site supervisors, safety & health professionals, and workers.
WHY: Struck-by incidents are the second leading cause of workplace deaths and the leading cause of nonfatal injuries among construction workers.
Construction workers can be hurt or fatally injured from being struck by vehicles, falling objects or equipment, or some other struck-by mechanism, such as swing hazards from cranes.
From 2011 to 2021 struck-by injuries accounted for approximately 1,800 (17%) of fatal injuries in construction and approximately 167,300 (21.5%) of nonfatal injuries.
WHAT TO DO: STOP. TALK. ACT.
Take a moment to gather workers on a worksite, talk about the potential risks on the job, conduct safety inspections, and highlight safety solutions and prevention to reduce injuries.
Resources
The following resources are available to assist with planning a Stand-Down:
Kickoff webinar: Monday, April 17th 2:00 pm; register here
Toolbox talks: real-life examples of highway work zone, lift zone, heavy equipment, trench safety, preventing falling objects, and head injuries
Infographics: easy distribution and promotion of key safety messages
Posters and stickers: place near the hazard, at the entrance of the job site, near an office, and near break areas
Training videos: assist in identifying and preventing struck-by hazards, how to conduct a job hazard analysis before work begins, or before a new task or type of work begins, and helps provide information on what is working at other job sites
Additional resources on personal protective equipment and equipment safety
Resources are available in both Spanish and English, here.
In addition to NIOSH, the Stand-Down is supported by OSHA, CPWR – The Center for Construction Research and Training, and the American Road and Transportation Builders Association. These partners work together through the NORA Construction Sector Council which undertakes a number of initiatives to prevent injury, illness and death in the construction industry.
NIOSH is the federal institute that conducts research and makes recommendations for preventing work-related injuries, illnesses, and deaths. For more information about NIOSH, visit www.cdc.gov/niosh/.