Posted May 31, 2023
ASV Announces 2022 Dealer Award Winners
Winners operate dealerships in Connecticut, Georgia and Wisconsin.
---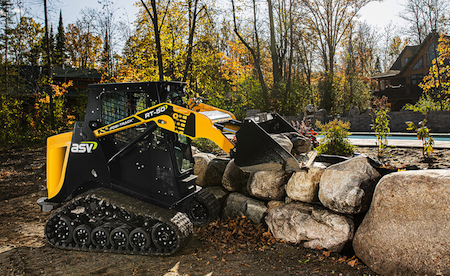 ASV, an industry-leading manufacturer of all-purpose and all-season compact track loaders and skid steers, presents three dealers with Dealer of the Year Awards for 2022.
Barda Equipment is the Large Market winner, Butler Equipment is the Medium Market winner, and Duffy's Sales & Rental is the winner of the Small Market category.
"These three dealers stand out due to their commitment to ASV and excellent customer service standards," said Jeff Pate, director of sales for the ASV brand. "We are proud to have them as our partners representing our brand in their communities."
Alberta-based Barda Equipment is ASV's 2022 Large Market winner. The multi-location dealer shares ASV's commitment to quality products and service. With a focus on the forestry, landscape, oilfield and building construction industries, Barda Equipment has been a loyal representative of the ASV brand for over 35 years and was also awarded ASV's 2019 Dealer of the Year Award.
Butler Equipment is the winner of the 2022 Medium Market award. The Connecticut-based dealer serves a wide variety of customers and is committed to putting the needs of their customers first. This ideal has brought them success for more than 55 years. Butler has been an ASV dealer since 2002 and knows that the quality product the brand provides will lead their customers to a positive experience.
ASV selected Duffy's Sales & Rental as the winner of the 2022 Small Market award. The Wisconsin-based dealer has served ASV customers since 1993, providing sales, rental, parts and services for the construction, landscaping and land clearing industries. Their parts and service department is headed by the longest tenured service representative of ASV equipment in the United States, cultivating a knowledge base at this dealer that is unparalleled.
About ASV
ASV, a Yanmar Compact Equipment brand, designs and manufactures a full line of compact track and skid-steer loaders primarily for the landscaping, forestry and construction markets. Known as the creators of America's original compact track loader, ASV has a strong belief that no matter where customers are working, they should be able to complete the job quickly and with ease.
ASV builds its machines with groundbreaking features allowing customers to do more work in more places with maximum power, performance, serviceability and comfort. This is made possible through innovative design combined with ASV's patented Posi-Track undercarriage technology that provides exceptional traction on soft, wet, slippery, rough or hilly terrain. Posi-Track is a registered trademark of Yanmar Compact Equipment North America.
For more information: Yanmar Compact Equipment North America, 840 Lily Lane, Grand Rapids, MN 55744; call 1-800-205-9913; fax 218-327-9122; sales@asvi.com; www.asvi.com