Posted June 28, 2023
Sellars Promotes Yusuf Abu-Hatoum to Chief Information and Customer Experience Officer
Abu-Hatoum joined Sellars in 2020.
---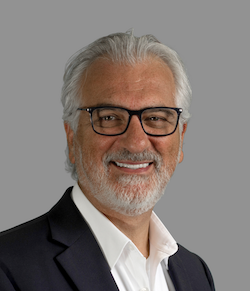 Sellars Absorbent Materials, a Milwaukee-based manufacturer of wipes, absorbents and towel and tissue products, has promoted Yusuf Abu-Hatoum to chief information and customer experience officer. Abu-Hatoum, who has more than 30 years of experience in IT and business technology, joined Sellars in 2020.
"Yusuf is a passionate strategist who modernized our customer service department by introducing a new platform and creating a coaching model that elevates our employees and encourages their ongoing growth and development so they can deliver a superior experience that's focused on anticipating customer needs and providing solutions," says Tom Sellars, CEO of Sellars.
Throughout his career, Abu-Hatoum has been a disciplined and focused leader who implements new structures and systems that revitalize existing businesses by providing technology solutions that delight customers and lead to positive business outcomes.
Since joining Sellars, Abu-Hatoum has had a significant impact on the daily operations of the company. By leveraging cloud technologies, incorporating leading customer service platforms and harnessing the potential of data analytics, he has turned Sellars into a data-driven organization. The changes have given Sellars detailed insight and a competitive edge that positions it for sustained growth and success.
"I understand that customer satisfaction is at the core of any flourishing business, and I am passionate about utilizing information technology to exceed customer expectations," says Abu-Hatoum. "At the same time, I truly believe in people and their ability to outperform expectations as long as they're supported, encouraged and empowered. Pairing technology with an engaged workforce is a powerful tool that's hard to beat."
Prior to joining Sellars, Abu-Hatoum was president and CEO of Muskego-based NABCO Entrances, Inc. He also spent nearly six years at CST Industries as chief information officer.
Sellars Background
Sellars is a privately held, high-growth, mid-sized company with more than 200 employees. Unlike its competitors, Sellars applies its proprietary technology to make high performing products from recycled materials and, as part of its manufacturing process, recycles its own production waste to create some of its absorbents. In addition to its proprietary technology and processes, Sellars has 20 U.S. patents and 30 international patents.
Its products are used to wipe and absorb liquids on surfaces and hands in a variety of commercial, industrial and residential applications. Sellars' shop towels can be found nationwide at a variety of retailers, including Home Depot, Lowe's, Menards, Mills Fleet Farm, Blains Farm & Fleet, Tractor Supply, O'Reilly Auto Parts and NAPA. Sellars' wiping products for the commercial markets are sold nationally through janitorial/sanitary, industrial, safety and specialty distributors.
For more information on Sellars, visit sellars.com.
Founded in 1985 and headquartered in Milwaukee, Wisconsin, Sellars is a leading manufacturer of shop towels, multi-use disposable wipers, towel and tissue and absorbent products. Sellars' products, which are sold under the ToolBox®, Clean Task® and Mayfair® brands, are made from recycled and renewable materials, are high performance and good for the environment. Sellars is committed to using sustainable practices in all business areas while serving our people, customers and the planet. Learn more about Sellars' nearly 40 years of innovation at sellars.com.