Posted September 20, 2023
NWFA Completes 69th Home with Gary Sinise Foundation
New home for United States Army Captain (Ret.) Jason Church is in Oconomowoc, Wisconsin.
---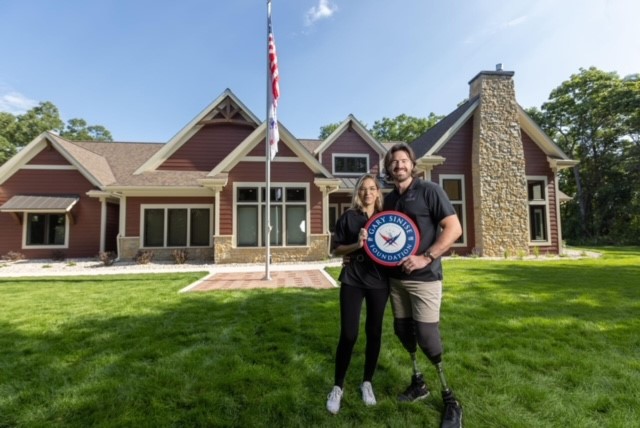 The National Wood Flooring Association (NWFA) has provided flooring for its 69th home in support of the Gary Sinise Foundation R.I.S.E. program (Restoring Independence Supporting Empowerment).
The R.I.S.E. program builds mortgage-free, custom, specially adapted smart homes for severely wounded veterans and first responders. The home dedication for United States Army Captain (Ret.) Jason Church took place on July 20, in Oconomowoc, WI. Flooring for the project was donated by NWFA member WD Flooring.
In 2012, Captain Church was out on his first deployment to Afghanistan conducting a routine patrol with this unit. It quickly became clear that they were walking into an ambush and standing in a field of improvised explosive devices (IEDs). Before long, a blast occurred nearby, resulting in the loss of both his legs below the knee.
"Captain Church spent two and a half months in in-patient care at Walter Reed, enduring 20 surgeries to save his legs and his life," says NWFA President and CEO, Michael Martin, "but his drive and determination were apparent from an early start.
He joined ROTC in college, was commissioned in 2011, and completed military education for infantry officer basic leader training, Ranger School, and Airborne School. He is a third-generation soldier, and since retiring from the Army, has earned his law degree from the University of Wisconsin – Madison. We're honored to partner with WD Flooring to provide beautiful wood floors for his new home."
In addition to the 69 homes already completed, NWFA currently is working with its members to source wood flooring for 11 additional R.I.S.E. homes in various stages of planning and construction. Currently, 148 NWFA member companies have donated product, logistics, and installation services in locations throughout the United States, with a total value of more than $5.7 million. A list of all NWFA R.I.S.E. participating companies can be found at http://www.nwfa.org/giving-back.aspx
.