Posted September 27, 2023
Festool Announces TS 60 K Track Saw Sweepstakes
Sweepstakes runs through Sunday, October 8.
---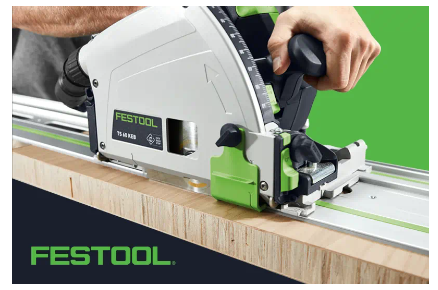 WHAT: For professional tradespeople seeking precise tools for the toughest tasks, Festool, is hosting a sweepstakes to highlight its next-generation Track Saw, the TS 60 K.
Five lucky winners will win a TS 60 K Track Saw and FS 1400/2-KP guide rail, valued at $4,890.
WHEN: The sweepstakes will run from Tuesday, September 26 through Sunday, October 8 at 11:59 PM ET. Winners will be announced on Monday, October 9.
WHY: Festool's leading power tool solutions drive efficiency in the shop and on the jobsite. Professional tradespeople seeking innovative solutions will have the opportunity to win a tool from Festool's newest generation of offerings. Featuring increased cut quality, a powerful brushless motor and KickbackStop, the TS 60 K sets a new standard in its category.
WHERE: To enter, please visit: www.festoolusa.com/campaigns/landing-page/ts60k- myfestool
WHO: Festool has been developing innovative, precision-engineered and durable power tool solutions for nearly a century. For nearly 100 years, Festool has been a leading manufacturer of power tools, known for its systems-based approach to power tools that are designed for efficiency and high performance.
Festool's mission, "Built Better To Build Better," focuses on creating better tools that empower professional tradespeople to elevate their skills and deliver outstanding work by helping them build cleaner, faster, smarter…better.
Festool USA is based in Lebanon, Indiana. For more information, visit www.festoolusa.com