Posted October 9, 2023
International Drilling Equipment Stocks Up on NPC Hydraulic Pile Croppers
IDE is based in Rural Hall, North Carolina.
---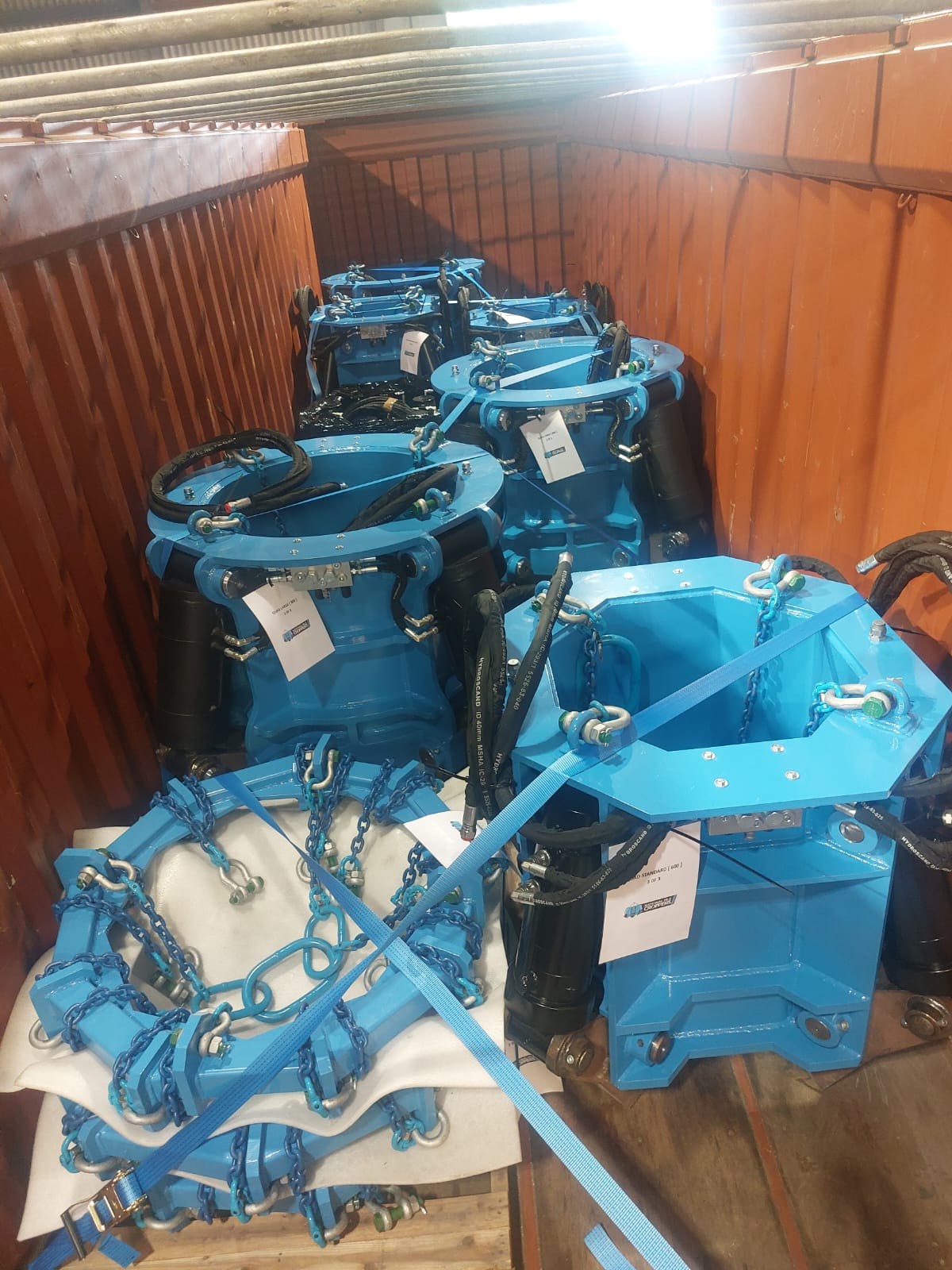 National Pile Croppers' partner in the eastern United States, International Drilling Equipment, has recently taken delivery of a selection of state-of-the-art hydraulic pile croppers. The shipment includes Quad and CFA croppers along with lifting frames and service support packages.
The selection will enable the North Carolina headquartered company to offer its customers the very latest solutions in pile cropping.
Recently a large container arrived in the United States with a complete range of Quad and CFA National Pile Cropper (NPC) hydraulic pile croppers. Together with the special lifting frames and a selection of service support packages and tool kits, the patented hydraulic pile croppers will soon be hard at work providing modern, safe and efficient pile cropping throughout the country by NPC's authorized distributor for the United States East of the Rockies, International Drilling Equipment (IDE).
The selection of pile croppers was delivered to IDE's main location in North Carolina and will soon be allocated to the company's various offices in the US.
Effective partnership
The relationship between NPC and its professional and experienced partner companies around the world reinforces the company's commitment to providing exceptional levels of customer focus in-market. The United States is no different, with IDE providing pile cropping expertise using the NPC range. IDE is fully supported from the UK with operations and sales staff receiving full training in both in the US and at NPC's customer excellence center in the UK.
IDE's primary office is located in Rural Hall, North Carolina, near the growing Piedmont Triad (Winston-Salem–Greensboro-High Point) area, with additional offices in Nazareth, PA and other locations. IDE's vast range of distribution and service points enables the company to offer what it considers to be some of the world's leading drilling and infrastructure brands, putting them to work for the benefit of its clients since its inception in 2007.
As with NPC, IDE prides itself on delivering the best and most innovative solutions to its construction and civil engineering clients, partnering with them to understand their needs, culture and business aspirations. This understanding enables IDE to provide exceptional service and advanced solutions to meet any challenge using world-class products. These have been carefully selected and tested to meet the most rigorous specifications and safety standards across a variety of industries, with all the added extras for maximum efficiency, operator comfort and safety.
New solutions for its customers
As part of IDE's drive to provide its customers with state-of-the-art solutions and products, it was quick to spot the potential of NPC's range of pile croppers. Contact between the two companies directly led to IDE being appointed a key partner of NPC in the United States, with the appointment of such a professional and experienced industry player reinforcing the National Pile Cropper Group's commitment to providing exceptional levels of customer focus in-market.
In practical terms, the agreement between the two companies will see IDE stock a full range of pile croppers for the US market at its strategically placed hubs and provide 'point of contact' customer support and training. NPC will also be on hand on to provide round the clock support from its UK based technical support department. This will further enable customers to tap into the specialized advice and assistance that has made NPC the world's largest designer, manufacturer and hire center of pile cropping attachments.
The arrival of the first batch of hydraulic croppers will be followed by NPC staff travelling to the US to undertake full product training at IDE locations. This will be followed up by a program of visits to the UK at NPC's customer excellence center.
Intelligent solution for construction
Fully customisable length and diameter wise, concrete foundation piles for all types of ground conditions have been, and are, used for various civil engineering and construction structures. Common applications range from small housing developments to major inner-city renovation schemes, construction and infrastructure projects, including tunnelling. Historically concrete foundation piles were reduced using methods such as hand-held breakers and other inaccurate, expensive and emission producing methods.
These outdated methods further risked damaging the integrity of the piles and gave rise to associated health problems such as HAV (Hand Arm Vibration syndrome) and the very real risks associated with manual work within unstable/subterranean ground conditions. In direct response to these problems, hydraulic pile croppers were developed, initially in Europe, becoming widely advocated by health and safety professionals and engineers alike, becoming the industry standard from the late 1990's onwards.
NPC's pile croppers provide a state-of-the-art solution for dealing with concrete piles. They are effectively very precise hydraulic shears with defined angles of deflection and points of contact ensuring a clean cut of the excess pile that does not interfere with the efficacy of the remaining pile.
There are a breadth of different types and sizes of croppers, designed specifically for the breadth and range of piles including augured, bearing, contiguous, secant, CFA, trench and helical displacement. The pile croppers are available in varying sizes ranging normally from 300mm up to 1,800mm (approx. between 12 and 71 inches) in diameter.
Going forward
Ian English, Business Development Director of National Pile Croppers comments: "International Drilling Equipment's vast local market knowledge, industry expertise, vision, ethos, values and drive make them the perfect choice for the National Pile Cropper Group. This will enable us to entrust the development of the eastern US market to them, enabling customers there to benefit from our comprehensive range of pile croppers.
"We are visiting this month to provide on the ground familiarization, sales and support training as well as commissioning and site visits with sales and service engineers. This will help ensure the IDE team are fully acquainted with the NPC product in conjunction with their own vast knowledge of piling in their marketplace. We look forward to working with International Dilling Equipment which has already proven to be a mutually beneficial relationship."
About National Pile Croppers
Located in the very heart of England, with convenient access to all parts of the UK and beyond, National Pile Croppers was established in September 2015 and has grown dynamically to now being the UK's leading supplier of pile cropping attachments. Bringing a huge amount of knowledge and passion to the industry, the management team has over 100 years of combined experience in the industry. The company now focuses on providing a bespoke service to construction customers, by supplying the correct equipment for individual applications on time and at a very competitive price.
Over the past two years, National Pile Croppers have built a completely new range of redesigned and improved pile cropping equipment, all developed and built in house. All of National Pile Croppers' machinery is available for customers to hire from its depots in Burton-on-Trent and Stevenage, with the company's avowed aim to be the best at what it does.