Posted November 8, 2023
Snap-on Showcases Red, White and Blue Products this Veterans Day
Auto Darkening Welding Helmet and Ratcheting Standard Screwdriver are among patriotically themed products.
---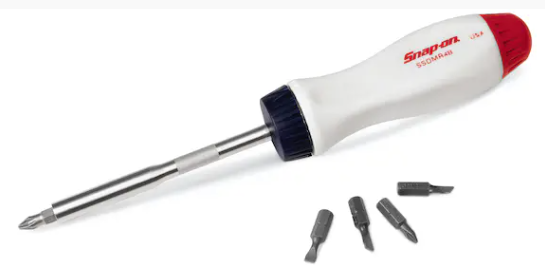 Snap-on is proud to have a long history of serving a broad range of government and military operations since the company's founding. Consistently, Snap-on is regarded as a veteran friendly company and a top franchise opportunity by major media outlets. In recognition of Veterans Day, here are a couple of the many Snap-on products that come in patriotic colors.
The Snap-on® YA4609 Auto Darkening Welding Helmet with its black and multi-color eagle graphic merges modern functionality with patriotic flair and boasts four precise arc sensors for consistent auto-darkening. With adjustable shade modes from #6-9 to #9-13, it caters to varied welding tasks. Its unique grind lockout feature allows dual functionality as both a face shield and welding helmet, enhanced by a high-definition lens and a broad 3.73 x 3.34" viewing area. Solar and lithium-battery options ensure effortless power sourcing, while the deluxe comfort fit headgear ensures optimal wear.
The Snap-on® 8-3/4" SSDMR4BRWB Ratcheting Standard Screwdriver in Red, White, and Blue is a robust screwdriver, proudly made in the USA, combining a solid stainless steel 3-25/32 inch shank with a red, white, and blue standard hard handle. Its rare earth magnetic bit retention ensures stability, while a forward-lock-reverse mechanism bolsters its precise ratchet action. The knurled shank spinner provides enhanced control. This screwdriver comes with flat tip bits (3/16" and 9/32") and PHILLIPS® ACR® bits (#1, #2, and #3).
Customers can learn more about these products by contacting their participating Snap-on franchisee or representative, calling toll free 877-SNAPON-4 (877-762-7664), or visiting www.snapon.com