Posted November 15, 2023
ICP Names New Senior VP of Sales
Jason Fretz brings more than 20 years of industry experience to ICP.
---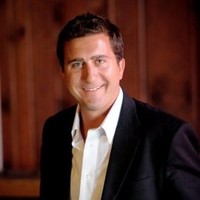 Jason Fretz, a building and construction industry veteran, will elevate ICP's roofing and waterproofing brands in the retail and professional spaces.
ICP Group (ICP) has named Jason Fretz, a building and construction industry sales leader with more than 20 years of experience, as its new Vice President of Sales for Roofing & Waterproofing Retail and Distribution.
In this role, Jason will lead sales strategy for the portfolio of APOC®, Pli-Dek® and exclusive brands in roofing and waterproofing solutions, focusing on growing sales and expanding the business's reach to roofing professionals throughout North America.
"We're excited to add Jason, whose established sales excellence and strategic approach make him an optimal leader for roofing and waterproofing sales, to the team as we continue to grow the business," said Jay Doubman, President and CEO, ICP Group. "His experience in the building products space will enable him to elevate our high-performance roofing and waterproofing solution in the marketplace, further establishing APOC and Pli-Dek as the premier roofing and waterproofing brands for professionals everywhere."
As part of its ongoing dedication to better serving roofing professionals everywhere, APOC also recently launched its new Contractor Pro Program, which enables regular purchasers of APOC roofing solutions to unlock exclusive perks, tools and resources.
"We are continuously looking for ways to help our contractor customers grow their business," Doubman adds. "We're doing it by appointing people like Jason, with our supplemental support like the Contractor Pro Program, and of course, with high-quality APOC professional solutions."
To learn more about APOC, visit www.APOC.com. To learn more about Pli-Dek, visit www.PliDek.com. To learn more about ICP, visit www.icpgroup.com.
About ICP
Innovative Chemical Products (ICP) is a leading specialty chemical manufacturer in North America and provides coatings, adhesives and sealants globally. With operations headquartered in Andover, Massachusetts, and multiple manufacturing facilities around the world, ICP serves multiple end markets, including building materials, specialty construction, industrial, packaging, printing and sports surfaces. ICP is privately held and manufactures products under several recognized specialty groups.
For more information, visit www.icpgroup.com.