Viega announces new director of marketing
Kevin Fox joins Viega from Burns and McDonnell Engineering.
---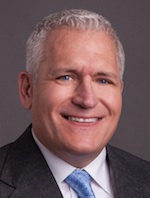 Viega LLC announces Kevin C. Fox as the new director of marketing. In this position, Fox is responsible for directing and managing Viega's marketing department, including strategic marketing research, planning and implementation, marketing financial tracking, and support of corporate research, marketing and brand initiatives.
He is also involved in developing and implementing creative visuals for brand strategies and communications.
Fox joins Viega from Burns and McDonnell Engineering in Kansas City, Mo., where he was the corporate marketing strategist, and led strategic marketing communications for a team of 40 in-house marketing and research staff. Prior to that, he held the positions of senior art director at American Identity and creative director at Soft-Tek International.
"We are thrilled for Kevin to join the Viega team and lead the marketing efforts of the organization," said Dalyn Cantrell, vice president of sales and marketing, Viega. "Kevin's background in strategic marketing combined with his leadership experience will certainly exceed the demands and expectations of the position."
Fox earned his bachelor degree of fine arts in graphic design from Wichita State University, and is a certified business communicator through the Business Marketing Association. He was an instructor at Burns and McDonnell University.
Fox served as the chairman of University of Missouri, Kansas City's marketing advisory board and as president and vice president of the Kansas City Business Marketing Association.
He is relocating to Wichita, Kan., with his wife of 24 years, Faylisa, and daughter.
Founded in 1899, The Viega Group manufactures and distributes the highest quality plumbing, heating and pipe joining systems in the world. Viega is best known for innovative press technology systems for industrial, commercial and residential projects, like Viega ProPress for copper and stainless and Viega PEX Press systems in Zero Lead bronze and high-performance polymer. Viega LLC offers more than 3,000 products in North America. For more information, visit www.viega.us