Bosch Launches 18V Best Built Challenge Video Series
Video series highlights Bosch durability and runtime in jobsite conditions and head-to-head comparisons.
---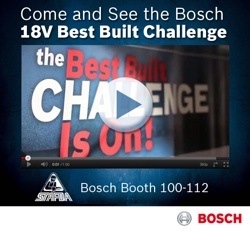 Bosch Tools has launched a new video series called the 18V Best Built Challenge that dramatically demonstrates the power and durability of its 18 Volt cordless power tools in both extreme and typical job site environments.
Exclusive to Contractor Supply Magazine, the series presents one new video each week for four weeks and is being broadcast by e-blast to Contractor Supply subscribers nationwide.
Click here to view the exciting first video, which involves an extreme "don't try this at home!" durability test of a Bosch Drill.
This video will be available for a limited time on an exclusive player, and later will reside on the Contractor Supply Video Channel.
Visit Bosch Tools at www.boschtools.com for more information.