Posted April 14, 2021
Coxreels issues new aviation industry products catalog
Catalog features products designed to withstand the demands of aviation industry professionals.
---
Coxreels is excited to introduce an updated version of our Aviation Industry Catalog.
Mechanics and technicians that work in the aviation industry agree, having heavy duty equipment that is built to last is important when working in tough conditions - which would otherwise break low-quality equipment due to repetitive use.
Our high-quality reeling products were meticulously engineered and designed with longevity in mind - everything from aviation general duty, aerospace research & development, service hangers, and more. Whether you need a low, medium or high-pressure rating for grease, oil, air or water, Coxreels® offers a reel to fit the application.
Please take a moment to click on the links provided below to download the new catalog and the brochure.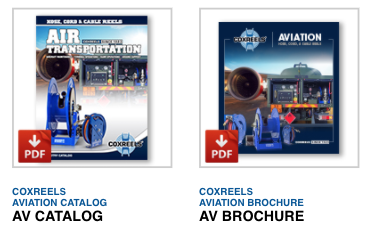 Coxreels has remained steadfast and focused on manufacturing high quality, professional grade hose, cord, and cable reels since 1923. Offering a full product line serving the industry in every channel and application, Coxreels takes great pride in designing, building, and supporting the world's finest reels made right here in the U.S.A.
If you have any questions, please do not hesitate to reach out to our dedicated Customer Service team at 800-269-7335 or visit www.coxreels.com for more information.