ATC Ultrabond 4CC Anchoring Adhesive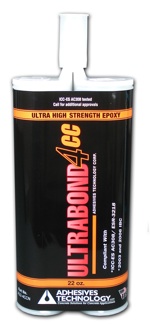 Adhesives Technology Corp.'s new Ultrabond 4CC is a high performance epoxy adhesive for anchoring and doweling applications in both Cracked and Un-Cracked concrete.
It has been tested in accordance with ICC-ES AC-308. Refer to the ICC-ES ESR-3218 Evaluation Report.
GENERAL USES and APPLICATIONS
For anchoring threaded rods, bolts and fasteners into grout filled masonry, solid brick or either cracked or uncracked concrete
Anchoring rebar dowels and smooth dowels into pavement/concrete
Suitable for long term sustained loads and seismic bracing
Can be used dry, water-saturated, water-filled and submerged applications with no load reductions
Airport runways and taxi-way expansions, stadium seating, pallet racking
Concrete traffic barriers to concrete bridge decks
ADVANTAGES and FEATURES
Ultrabond 4CC is a non-sag, high strength, moisture insensitive epoxy gelanchoring system. It is 100% solids with zero VOC content.
It is available in 22-ounce cartridges.