KNAACK Model 119-01 Field Station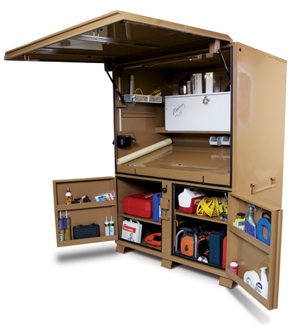 Knaack LLC announces the new Field Station (Model 119-01) secure storage system with features and accessories that improve security, durability and productivity on the jobsite.
The KNAACK Field Station is more than secure storage of blueprints and documentation, valuable tools and equipment, charging devices and supplies. The new Field Station functions as a jobsite office or "command central" used by foremen, superintendents, engineers and other skilled construction managers.
Security features include the patented WATCHMAN 5 lock system, heavy-duty vault-style hinges, and a locking storage hatch. Durability is enhanced with a thicker 14-gauge steel bottom that eliminates the possibility of fork lift damage during transport, arc-welded seams, weather–stripping and rain gutter, and dual gas springs for smooth opening. Powder-coat paint ensures years of corrosion-free service.
Productivity and organization are greatly improved with four-way skids, more storage shelves, a metal bracket light mount, multiple power pass-through grommets for delivering power or charging laptop computers, power tools, phones and radios, or battery packs.
And now construction professionals can choose from a variety of accessories to customize the Field Station to their unique job requirements. Choose a heavy-duty metal side shelf, short and long storage bins or a lockable shelf door that doubles as a whiteboard. A LED light kit features a 600 lumens light bar, power adapter and mounting hardware. Greater mobility is possible with the optional crane lift kit (brackets and hardware), or heavy-duty 6" casters that mount to pre-punched holes in the Field Station skids.
The accessory PowerCrew In-Box Power Supply provides four GFCI outlets for safer in-box power. And now, as part of an introductory promotion, the PowerCrew is free with each Field Station (119-01) purchase for a limited time (10/1-12/31).
"The new KNAACK Field Station is the result of working closely with our customers, construction professionals, to identify improvements and features that deliver more security, organization and productivity," said Bill Zbylut, VP marketing of Knaack LLC. "Our many new accessories are a KNAACK first, with more options for helping skilled pros gain an edge in their daily jobs."
The new KNAACK Field Station is available through a national network of trained distributors. To locate a distributor, access the KNAACK website, and link to, "Where To Buy" at the address below.