Albion 504-G15 Follow Plate for Bulk Caulk Loading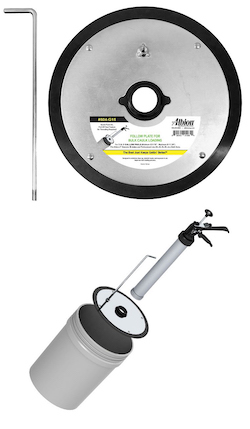 Albion is proud to introduce new model 504-G15 Follow Plate for bulk caulk loading. With its Quick Push-On, Pull-Off Seal Feature, no barrel threading is Required! This means faster, cleaner loading of caulk into all Albion 2" diameter B-Line (models B12Bxx, B26Bxx, B12Sxx, B18Sxx, etc.) and Professional Line (DL-45, DL-59, etc) Bulk Guns.
The 504-G15 Follow Plate fits 3 or 5 gallon tapered or straight sided, metal or plastic pails with maximum ID of 11-3/8" and minimum ID of 9-7/8".
Albion's 504-G15 Follow Plate reduces the mess of bulk loading caulk from pails, while keeping the gun barrel clean and prevents air from entering the gun barrel during loading. Includes a pull rod for easy removal of Follow Plate from pail. The 504-G15 Follow Plate is built from a pair of steel plates sandwiching a nitrile rubber gasket that scrapes the inside of the pail clean. It reduces waste and keeps air and job site debris out of bulk caulk. Also fits pails of 3-gallon units of Sikaflex-2c and MasterSeal NP 2TM.
Albion Engineering is a third-generation company internationally recognized as a leader in the field of handheld dispensing technologies. Albion supports multiple industries with innovative, high-quality dispensing tools and accessories for the most demanding applications. More information on our products is available www.albioneng.com where you can also request the latest issue of our Catalog and Handbook 333.