Albion 7-Piece Offset Caulking Spatula Kit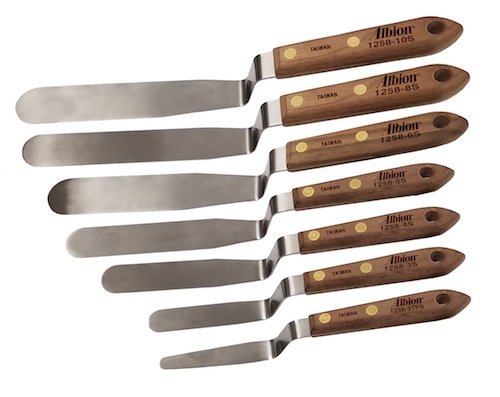 Albion is pleased to introduce a new line of Caulk Tooling Spatulas with an offset between the blade and handle (1258- G01).
Designed to protect a user's knuckles on deep and rough substrates joints, the spatula handles are raised or offset from the blade to provide better hand clearance from the substrate and improve visibility for the user during the critical tooling phase of installing wet sealants.
These seven new tools are a nod to our popular model 258 Classic hardwood handle caulk spatulas, well known to the professional. With tips ranging in width from 3/8" to 1-1/2" these tools can handle all variety of joint sealing situations found in the field. The stainless-steel blades are ground and polished for optimum flex and minimum drag for perfectly finished joints. They are unaffected by solvents, which means easy clean-up. Set includes the following models: 1258- 3TPS, 1258-3S, 1258-4S, 1258-5S, 1258-6S, 1258-8S, 1258-10S.
Visit www.albioneng.com to see the complete line of caulk tooling solutions: Classic Straight Blade (258 Series), Streamline (958 Series), C.A.T. Plastic (1058 Series), C.A.T. Stainless Steel (922 Series), Mini Spatulas (556 Series) and Squares (1158 Series).
Albion Engineering is a third-generation company internationally recognized as a leader in the field of handheld dispensing technologies. Albion supports multiple industries with innovative, high-quality dispensing tools and accessories for the most demanding applications.
More information on our products is available at www.albioneng.com where you can also request the latest issue of our Catalog and Handbook 333.