Albion Backer Rod Rover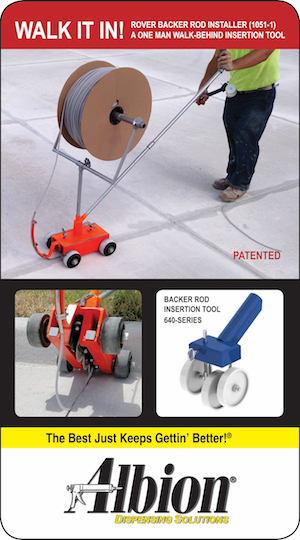 Albion's Backer Rod Rover inserts backer rod quickly and accurately in horizontal joints. The patented Backer Rod Rover is a walk-behind inserter that transforms a back-breaking two or three man job into an efficient and hassle-free one man operation.
The Rover (p/n 1051-1) can insert polyethylene foam in joint from 1/8" to 1/2" wide (1/8" – 5/8" rod) at depths of up to 3/4" deep. A spool of backer rod mounts conveniently in the upper frame. Rod threads down through a feed tube where it is neatly delivered to a set of three durable steel insertion wheels which place it firmly into the joint.
"A more consistent backer rod depth can directly translate into a more consistent caulking bead. With improved craftsmanship and faster completion rates you can be hired more frequently and have a reputation for quality in your caulking and sealing trade." - Inventor
The Rover is particularly effective with saw cut joints in concrete where it rolls smoothly down long stretches without missing a beat. Save time and hassle on your next job by adding the efficiency of the Albion Backer Rod Rover. Ships and stores in a durable, weather-resistant plastic storage case.
Be sure to grab Albion 640-series backer rod insertion tool for entry and exit points made with the Rover.
See the Rover in Action: https://goo.gl/WEfxoV
Visit www.albioneng.com for more information on Albion products.