Albion Engineering Mid-Handle Air Powered Dispensing Tools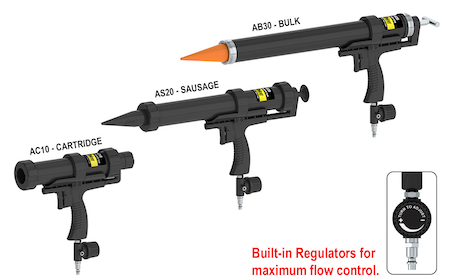 Albion Engineering Company is pleased to introduce three new Mid-Handle Air Powered Dispensing Tools for sealants, caulks and adhesives.
Designed for use in Industrial & Construction applications, including factory production, there are models for each popular material package category: 10oz Cartridge, Sausage and Bulk.
The Mid-Handle design provides balanced, fatigue-free dispensing. It also places the operator closer to their work allowing more precise dispensing. They are also lighter in weight than our legendary all-steel models.
The powder-coated black finish gives a polished and professional look. Regulators are built-in for maximum flow control.
The AC10 model for 10oz cartridges features a rod-less design which operates easily into confined spaces.
The AS20 for 20oz sausage packs features smooth rod design and compatibility with all B-Line sausage accessories including nozzles, caps, pistons and ladder hook pulls. The AS20 kit includes 6 nozzles and 2 replacement pistons.
The AB30 for bulk dispensing features durable steel barrel, cap and square rod.
All Albion professional line accessories including barrels, pistons, caps, pulls & nozzles are compatible. It includes 3 orange cone nozzles, one metal nozzle and metal nozzle adapter. These Mid-Handle tools offer the same quality and performance as our single component air tools, but with a better price point.
Visit www.albioneng.com to see our complete line of dispensing tools and accessories.