TRUMPF TruTool PS 100 Part Separator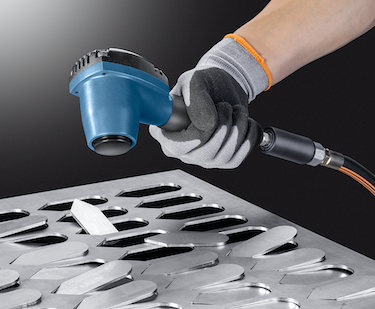 TRUMPF has launched a new part separation tool that makes work easier for companies with highly productive 2D laser cutting machines. The TruTool PS 100 part separator tool removes small parts quickly and easily from the scrap skeletons of processed sheets.
Once small parts are cut out on flatsheet laser cutting machines, they remain connected to the sheet's scrap skeleton by small cross beams, also called tabs or joints. To release the components, operators often use a hammer or similar tool. This method can be time-consuming, tedious, and risks operator injury as well as potential damage to the parts.
Faster part separation
Using the new, pneumatically powered TruTool PS 100, this task can be performed more gently and safely. It also speeds up the process, releasing parts up to ten times faster than manual handling. The TruTool PS 100 separates parts with nanojoint and microjoint connections in material thicknesses of up to 0.47 inches - no matter if it is steel, chromium steel, aluminum or special steel being processed.
Designed for easy operation
As with all TRUMPF TruTool power tools, ergonomics was a key consideration in the creation of the new part separator. The tool's design prevents operator fatigue. The handle dampens the resulting vibrations by 20 percent and allows the TruTool PS 100 to be guided in different positions. The operator can easily handle the TruTool PS 100, which allows them to operate it with their left or right hand, and with one or both hands. This ergonomic design ensures sustained high efficiency and operator relief.
To meet the usage requirements of most users, TRUMPF provides the TruTool PS 100 with two different types of air connections: one with a diameter of 0.2 inches and another with a connecting thread of 0.25 inches. This allows users to easily adjust the force needed to remove parts from the nest. The power tool meets ISO standards and other international requirements.
Customized tips ensure part quality
To prevent damage to parts as they are removed, the TruTool PS 100's rubberized hammer tips can be customized to meet different requirements. A medium-hard hammer tip is used as standard. It is primarily suitable for mild steel and medium sheet thicknesses. The optional soft hammer tip ensures careful handling of aluminum and non-ferrous metal parts. A third option, the hard hammer tip, increases impact intensity and creates advantages in thicker sheet metal and high strength materials.
The TruTool PS 100 is now available to customers in North America.