Appleton PowerTite Plugs, Receptacles and Connectors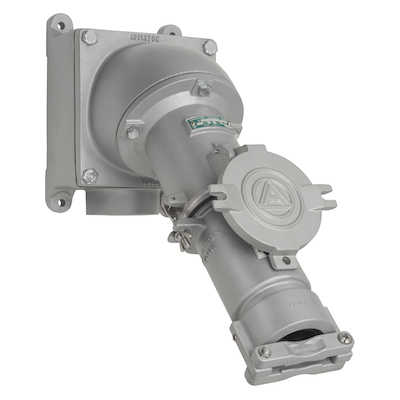 Industrial areas often require weatherproof plugs, receptacles and connectors to reliably supply power to equipment so that production can be maintained without costly downtime.
To help plant managers meet this challenge, Emerson offers its Appleton Powertite Series of pin-and-sleeve plugs, receptacles and connectors that provide fast, uncomplicated field assembly, superior reliability, and improved worker safety.
Available in 30, 60, 100, 200 and 400 Amp units, the Appleton Powertite Series supplies power to all types of heavy-duty electrical equipment, fixed or portable, including welders, pumps, compressors, motor generators and power transfer switch cabinets.
Carrying a NEMA 4X rating, these weatherproof products excel in wet, corrosive areas where they can be installed with confidence in "ship to shore" applications, loading docks and ports, land-based drilling rigs, cellular relay stations, and sewage pump and lift stations. Durable copper-free aluminum construction featuring an epoxy powder coat finish assures long-term protection against damaging chemicals, water, dust, and debris. In addition, the contacts exert constant pressure along the entire contact surface to provide unmatched electrical continuity.
To keep operations going and electricians safe while installing and servicing Powertite pin-and-sleeve plugs, receptacles and connectors, Appleton has incorporated features that include:
Energized contacts that are deeply recessed inside the terminal block to reduce danger of accidental touching and minimize possibility of exposed arcs
Positive polarization so that only plugs and receptacles of the same style, number of poles, and Amperage rating can be used together
Style 2 plugs, receptacles, and connectors provide a ground through shell, plus an extra pole, so that grounding pole "makes first, breaks last"
30- through 150-Amperage receptacles include a screw and flip cover for NEMA 3, 3R and 4, 4X applications at no additional charge
Plug and connectors include a variety of grommets with many cable diameters providing ultimate application flexibility.
For more information visit www.emerson.com.