CE Tools Contractor Engineered Tough Wipes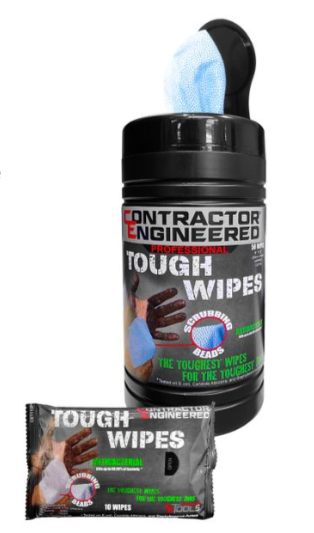 A purpose-built hand cleaner for trade professionals, Tough Wipes go above and beyond where it matters most. Engineered with thick fabric, scrubbing beads to remove tough grime and eliminate up to 99.9% of germs with an antibacterial solution.
Available in two sizes:
50-count Tubs to eliminate grime on the job and
10-count pouches to eliminate grime on the go.
FDA NDC Code: 77435-108
Tested tough for construction, mechanical and agricultural work, the thick fabric and scrubbing beads effectively remove any wet or dry grime including adhesives, paints, brake dust, tar, etc.
Contains a surplus of fluid and retains their moisture for up to a year after opening!
The antibacterial properties are complemented by aloe and vitamin E to reinvigorate your hands, leaving them healthier than before! The wipes are also completely scentless.
Built for all trade professions, they're Tough on Grime and Easy on your hands!
8"x12"
Antibacterial - Killing up to 99.9% of germs
Scrubbing Beads to remove stubborn Grime
Aloe and Vitamin E
Scentless