Portable Electric Tools: Arrow Fastener T50ACD Corded Electric Stapler with Spiral Drive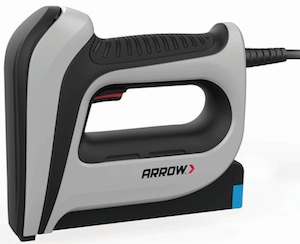 Arrow Fastener Company introduces a new generation of electric staplers powered by new Spiral Drive technology with a unique motor drive that provides consistent performance with every shot.
Arrow's introduction of a motor driven design, a design that uses a motor to drive the knife of the tool, allows for consistent performance with less reliance on outside power sources. This provides an effective, reliable alternative to manual guns or pneumatic tools that require hose and compressor configurations.
"Our new electrics deliver consistent performance and power in every shot and also offer innovative lightweight designs that provide a real alternative to manual tools," says Angela Cunningham, product manager, Arrow Fastener Company.
Arrow's new electric staplers are easy to handle. "They're surprisingly balanced and ergonomically designed to fit comfortably in the hand," adds Cunningham. The first of this new innovative line which features Spiral Drive technology is the DIY-friendly T50ACD Corded Electric Stapler.
The tool uses T50 staples up to 1/2" for all general purpose projects. The lightweight design makes it ideal for all day use and its easy load magazine allows for quick and easy staple reloading.
The T50AC Corded Electric Stapler and Brad Nailer for the pro customer also offers Spiral Drive technology for consistent, powerful driving power. The tool fires T50 staples up to 9/16" and 5/8" brad nails. It features a low indicator light that blinks when it's time to reload the tool, an LED working light to illuminate the workspace and an easy access magazine for quick reloading.
Ideal for professional applications when a high performance stapler and brad nailer is required, it will be available in the fall. Additional tools also will be added to the lineup.