Brass Knuckle SmartSkin Nitrile Gloves
W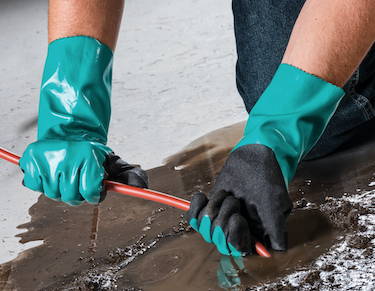 hy double dip? Usually because you want more of something good. In the case of Brass Knuckle® SmartSkin™ nitrile gloves (BKNITR2), double-dipping them in nitrile butadiene rubber (NBR) gives wearers twice the protection and twice the grip. Nitrile stands up to chemicals, oils, most harmful cleaning solvents, and resists bodily fluids and waste. If you have to work in unpleasant substances and it's vital that you hang onto your tools, SmartSkin is the right choice.
SmartSkin starts with a thin gauge, 18 mil nylon shell with a full NBR over coat. Then a second coat of NBR is added to full fingers and palm—and this coat has a sandy finish that's extra grippy, even when wet. In addition to added grip, the second coat provides extra resistance to abrasions, tears, and punctures in critical wear areas (nitrile has three times the puncture resistance of latex).
SmartSkin gloves are also the barrier of choice for workers in the oil and gas sector. These workers need impermeable gloves that protect against skin exposures when working around any oil operations and when transferring process fluids. Durable nitrile is ideal protection for these applications and more.
An estimated six out of every 100 professional janitors suffers chemical-related injuries, which include burns to the skin caused by harmful chemicals found in cleaners. These same workers require protection from bloodborne pathogens, germs, and good-old-fashion yuck.
When you really don't want to touch it, but your job says you have to, SmartSkin bears the brunt for you, protects your skin, and makes it easier to grip tools.
For more information, visit www.brassknuckleprotection.com/products/smartskin-bknitr2.
About Brass Knuckle
Brass Knuckle® grew out of a partnership with one of North America's oldest dedicated safety product supply companies. From product inception to quality control, we manage every aspect of product development to ensure ergonomics, protection and cost efficiency, maximizing compliance and safety. Brass Knuckle is a member of the Volk Enterprises family of companies, whose international strategic alliances with documented professional supply partners allow for a full range of safety products, programs and services to clients across the globe. For more information, contact Brass Knuckle® Safety Products, 1335 Ridgeland Parkway, Suite 120, Alpharetta, GA 30004. Phone: 770-674-8930. www.brassknuckleprotection.com.