Buyers Products Accessories for 3-Inch Hitch Receivers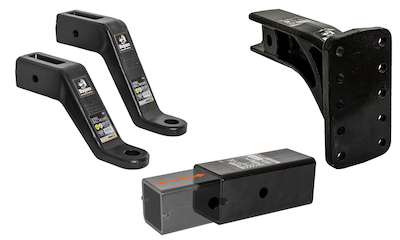 Buyers Products, a leading manufacturer of work truck equipment, adds a variety of heavy-duty accessories for 3-inch hitch receivers to its line of towing products. The new offerings include a reducer sleeve set, three sizes of forged ball mounts and a pintle mount.
"3-inch hitch receivers are gaining popularity in the market," says Dan Doerr, Towing Equipment Category Manager at Buyers. "These high-capacity hitches require rugged accessories designed specifically for them. Our customers rely on us to be a one-stop solution for their upfitting needs, so we knew it was time to fortify our offerings in this emerging category."
The new ball mounts and pintle mount feature extremely durable, forged-steel construction and solid-steel shanks. This robust design gives the mounts a 21,000-pound and 30,000-pound capacity respectively. The reducer sleeve set lets users convert their receiver to 2-1/2 inch or 2 inch so they can still use their accessories designed for those receivers.
These 3-inch towing products are available now from all Buyers Products dealers. Additional products, including an adjustable multi-ball hitch, are slated for release in summer 2021. For more information on all these products as they become available, visit BuyersProducts.com.