CONFAST Flat Phillips 410 Stainless Concrete Screws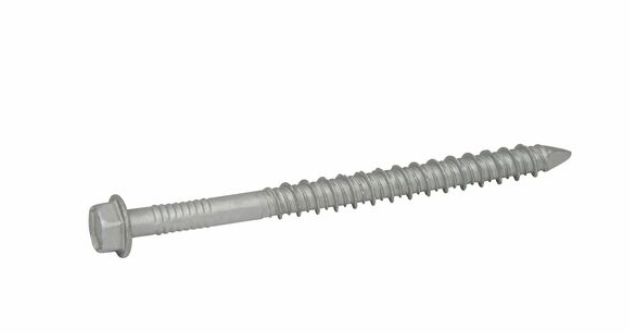 CONFAST® Flat Phillips 410 Stainless concrete screws are designed for a fast and easy installation with optimal holding strength and providing long-lasting rust resistance for exterior use.
Products Features Include:
EASY INSTALLATION : Fast easy installation;saves time
ALL LENGTHS: One stop shopping, saves time and money
PACKAGED 50 PCS: Less waste, save dollars
1 BIT WITH EVERY 50 SCREWS: More value
Product Specifications:
BIT SIZE: 3/16" = 5/32" 1/4"= 3/16"
BOX QTY: 50
MINIMUM EMBEDMENT: 1"
THREAD TYPE: Hi-Lo
MINIMUM EDGE DISTANCE: 3"
MAXIMUM FIXTURE THICKNESS: 3"
MINIMUM FIXTURE HOLE DIAMETER (IN PLACE): 5/16"
MINIMUM FIXTURE HOLE DIAMETER (HOLE SPOTTED): 5/16"
BRAND NAME: CONFAST®
DRIVER SIZE: 3/16" = #2 1/4" = #3
MINIMUM SPACING: 4"
MATERIAL: 410 Stainless Steel
ENVIRONMENT: Moist
TYPE: Male
Click here for a short video on how to use Confast concrete screws:
Installation Steps
Drill a hole using the correct diameter of bit for diameter of screw being installed. A carbide-tipped bit that meets ANSI Standards B212.15 must be used.
Drill the hole a 1/2" deeper than the anchor will penetrate the concrete, making sure the minimum embedment requirements of 1" is met.
The hole can be drilled while the fixture is in place. The minimum hole in the fixture for the 1/4" is 5/16" and the 3/16" is 1/4".
Clean the hole with a wire brush, vacuum, compressed air, or a blow-out bulb.
Insert the point of the 410 Stainless Steel Flat Phillips CONFAST® into the hole. Make sure that the screw being installed will penetrate the base material a minimum of 1" but no deeper than 1-3/4".
Using the proper sized Phillips bit tip for the anchor , turn the screw clockwise, applying slight pressure until the head of the screw is snug against the material being fastened.
Always use proper personal protective equipment per manufacturer's and OSHA instructions.
Concrete Fastening Systems, Inc. has been selling concrete fasteners for over 34 years from a fully stocked warehouse in Cleveland, Ohio. Free, same-day shipping in every length and diameter is available by ordering at www.confast.com, followed by product delivery within 1-3 days