Castle USA 110 Pocket Cutter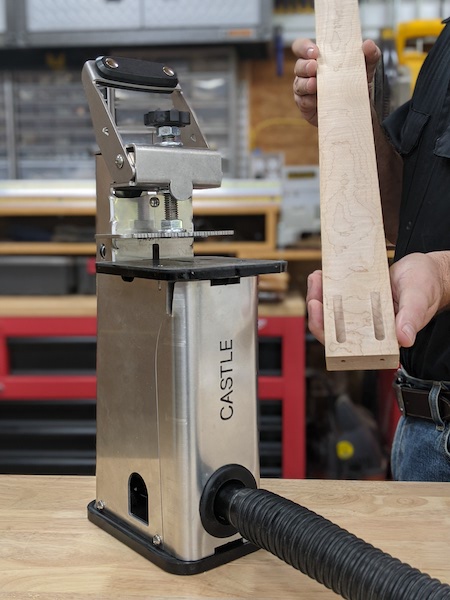 Castle USA has introduced the Castle 110 Pocket Cutter, a highly portable, adjustable, easy to use, and affordable machine. It was developed to provide a more accessible solution for making professional, low angle, highly stable, pocket joints. The Castle 110 creates low, 3-degree pockets which minimize joint shifts, or "joint creep," particularly when compared to other pocket hole joinery solutions.
Glyn Phillips, Castle USA's general manager, says that, "The Castle 110 Pocket Cutter provides smaller woodworking shops, hobbyists, and DIYers with the same, superior 'Castle Low Angle Pocket' for minimizing joint shift as our bigger, more commercial machines." Phillips adds, "Our founder, Max Durney, has been working on getting our pocket hole technology into the hands of everyday woodworkers for quite some time, and the Castle 110 does that while being affordable, portable, and easy-to-use."
A product video can be viewed here and demonstrates what sets the Castle USA 110 apart from other pocket joinery solutions.
Castle 110 Pocket Cutter features and benefits include:
Creates low angle, 3-degree pockets that are strong and stable, minimizing joint shift/ "joint creep"
Quick clamp firmly secures workpiece
Portable and adjustable
Can be clamped directly to large work pieces, allowing the user to take the machine to the wood, reducing material handling issues
Easy to use pilot hole guide
Dust extraction port
Can be clamped down to a work surface using the clamp ports or permanently mounted using pre-drilled holes in the base
Factory assembled and adjusted; no additional setup required
Designed and assembled in the USA from US and global components
Each Castle Pocket Cutter 110 includes:
450w router, now with an 8mm collet
Smooth Router Bit
Collet Wrenches
Bit Set-up Block with integrated bit height gauge
Extra-long, (6") 5/32" pilot hole bit
Pocket cutting bit with 8mm shank
Table Overlay Plate for quickly machining thinner stock with no adjustment
T20 Torx driver bit, 6" round shaft
Box of 250 count, 1-1/2" Torx Hi-Low pocket screw
Box of 250 count, 1-1/4" Torx Hi-Low pocket screw
Operator Manual with Warranty Activation Card
Castle USA is an American machinery manufacturer championing the cause of the entrepreneurial woodworker since the 1980's. Castle products are assembled in the USA, using USA-made and globally sourced components. Their product offering includes a superior line of "Castle low-angle" pocket hole cutters, face frame assembly tables, and a variety of tooling. Castle users include large scale manufacturers and small, professional, cabinet and woodworking shops as well as hobbyists and DIYers. Each Castle product is designed to increase productivity as well as the quality of the work result.