CertainTeed BOLT 3 Insulation Blowing Machine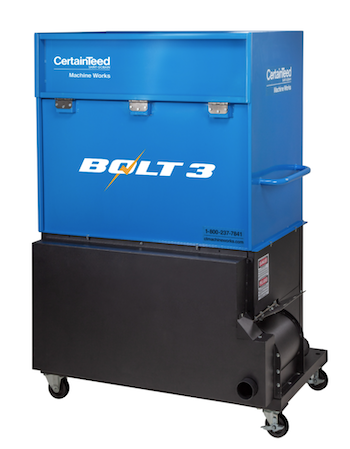 The new BOLT 3 Insulation Blowing Machine is a powerful and portable, high-capacity, electric insulation blower capable of quickly tackling both fiberglass and cellulose installations.
With a 25-cubic-foot hopper, 66 percent more loading capacity than most mid-size commercial insulation blowers, and a powerful blow rate (24 pounds-per-minute for cellulose and 14 pounds-per-minute for fiberglass), BOLT 3 is capable of handling the tough jobs, yet slender enough to easily clear a standard 36-inch doorway.
Heavy-duty rotating wheels, lockable casters, and welded steel construction make the BOLT 3 durable and easy to transport between jobsites. The BOLT 3 features wireless remote control options, powerful safety features (including emergency shut off and electrical interlock to prevent operation when the hopper is out of place), and chain and sprocket guards to eliminate access to pinch points.
It also features a powerful quad agitation system, a patented spiked auger, and built-in hose storage, combining beauty, brawn, and convenience into one reliable product.