Basic Coatings Emulsion PRO+ Sealer and Finish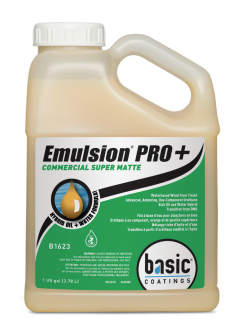 Whether they're diehard Emulsion PRO fans or it's never touched their T-bars, wood flooring professionals are sure to love the new, premium formula: Emulsion® PRO+ ("Emulsion Pro Plus")!
This reformulation preserves all the best attributes of Emulsion PRO, but it applies better and defoams and self-levels faster than before or any other oil and water sealer/finish on the market.
1 component
Ambering
Commercial grade
Self leveling
A combination sealer and finish
Emulsion PRO+ is a one-component, ambering, commercial grade, self-leveling sealer & finish. This product contains an oxidative crosslinking polyurethane (OCP), and is ideal for use in Residential, Commercial, or Sport Wood Flooring applications.
This product is an excellent choice for professionals that are looking to make the transition from OMUs (oil-modified urethanes) to waterbased finishes, or for professionals wanting an ambering finish that delivers a rich look of traditional oil but with all the advantages of a commercial waterbased finish.
Tech Specs:
| | |
| --- | --- |
| Color | Light amber |
| Solid Content | 26% +/- 2% |
| Coverage | 450-550 sq. ft./gal |
| Dry time | 2 - 3 hours |
| Recoat Window | 2 - 24 hours |
| Pot life | N/A |
| VOC | less than 275 |
| Warranty | 1 year |
| Light traffic | 24 hours |
| Full cure | 7 days |
| Rugs | 2 weeks |