Chicago Pneumatic BRK 55 Hydraulic Breaker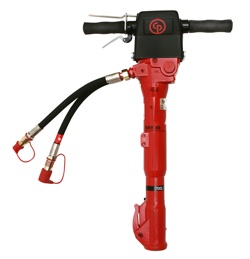 A favorite with construction and rental companies, the Chicago Pneumatic BRK 55 hydraulic breakers are the ideal choice for a broad range of road building and maintenance applications.
Delivering 1,450 blows per minute, the BRK 55 delivers dependable power and performance working on asphalt, concrete or frozen soil. The Chicago Pneumatic BRK 55 hydraulic breakers feature a slim design, giving operators an effective line of sight to the working tool point, boosting productivity.
Operators are able to get to work quickly because the BRK 55's hoses are fitted with flat face HTMA quick release couplings for fast, easy connections in all work environments. The couplings are designed to fight the dust and dirt that can build up on work sites. The BRK 55 is well balanced and is without external side bolts or other protruding machine parts that can come into contact with the operator, further improving comfort and productivity.
These units can be used with both 8 gallons per minute or 5 gallons per minute PAC Power Packs. Compact and fuel-efficient, the low-maintenance and exhaust-free BRK 55 stands up to even the coldest temperatures.
Chicago Pneumatic offers vibro-reduced handles as an option on the BRK 55 hydraulic breaker. These handles provide a more ergonomic and comfortable grip, designed to reduce the reactive force experienced by the operator, and dramatically reduces operator fatigue while also increasing overall productivity.
Other optional accessories for the BRK 55 include oil-flow dividers, which reduce flow and pressure, allowing operators to run tools from hydraulic-powered carriers. The addition of one or two 23-foot extension hoses allows operators to extend working ranges up to 69 feet without significant drops in pressure.