CircSaw Technologies SkatePlate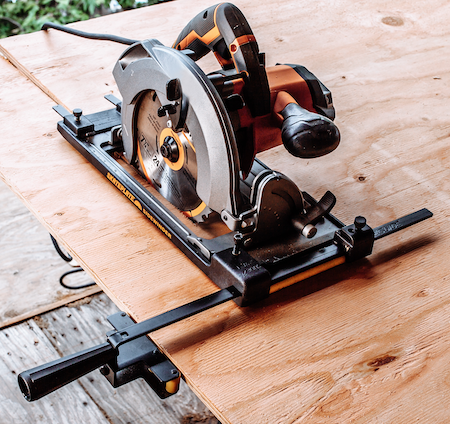 The SkatePlate & SkateGuide Combo Kit fits 95% of the most popular 7 ¼" sidewinder and wormdrive saws. Made of high impact nylon, with Delrin bearings and polyurethane rollers, the SkatePlate glides easily across any cutting surface without scratching. Moreover, the SkateGuide, which also has rollers, allows the users to measure once and cut multiple times.
The cuts become more precise, the user saves a lot of time and it reduces fatigue. In essence, when used it becomes a portable table saw at job sites and helps DIYs cut like a pro.
Bob May, CEO of CircSaw says, "We looked at what was being offered in the market for circular saw users, such as rudimentary guides, wobbly contraptions and cumbersome track systems, and we felt they really didn't hit the mark. Moreover, alternative solutions that do work better are extremely expensive, ranging from $300 - $700 each. So we launched the SkatePlate & SkateGuide Combo Kit and the SkatePlate H2O Water Saw System Kit, all of which are highly durable, very affordable and extremely portable.
The other great feature? The SkatePlate & SkateGuide Combo Kit retails for only $79.95.