Golight GT and Stryker ST LED Work Lamps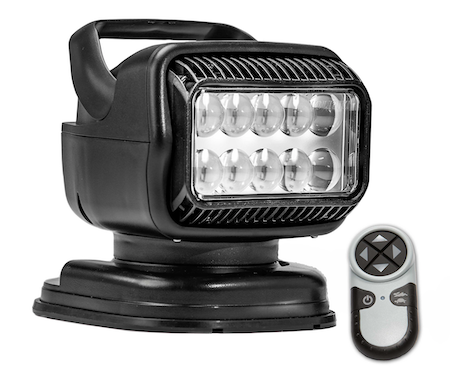 Golight, Inc., a world leader in pan-and-tilt remote-controlled lighting technology, announced the launch of new, more powerful versions of both its Stryker ST (shown) and Golight GT remote-controlled LED work lamps today. The lamps will be on display to the industry for the first time in Golight's booth 33091, South Hall, upper level, at SEMA 2019 in Las Vegas, Nov. 5–7.
The introduction of the new, more powerful Stryker ST and Golight GT lamps marks a significant milestone in vehicle-mounted, remote-controlled work lamps. Now packing unprecedented beam strength of 544,000 candela, each lamp is 33 percent more powerful than before and 55 percent more intense than any competing product on the market.
Both lamps feature the company's proprietary P-Vex lens that optimally controls the raw lumens generated by 10 high-flux LEDs, creating an intense, tightly controlled 544,000-candela spot beam pattern that can brightly illuminate a target at a distance of 4,839 feet (1,475 meters). The lamps are a tour de force of optical design, lens clarity and powerful new LEDs that generate a precise spectral pattern without dark spots or other imperfections.
"Our patented optics will now allow users to illuminate and see objects farther downrange than ever before," said Colt Hosick, director of product development for Golight. "The bright white LED light beams these lamps project are between 5,800K to 6,200K, roughly the color temperature of natural sunlight and optimal for human vision. Combined, our lamp features enable users to see a more crisp and well-defined view of whatever target they need to illuminate."
Hosick observes that the industry often confuses lumens with candela when it comes to lighting, and that this can be detrimental to any meaningful comparison. "It's like comparing the light performance of a light bulb hanging in the middle of a room with that of a directional spotlight. It's apples and oranges," he said.
Spotlight performance measurements have been established by the American National Standards Institute (ANSI) and that peak beam intensity is defined by candela. Beam intensity, represented strictly as candela, and maximum beam distance measurements are presented with all Golight models.
Both Stryker ST and Golight GT remote-controlled LED models focus their beam patterns at an 8-degree angle. These lenses are perfect for targeting objects in the distance and for utility and telecom fleets performing riding-line inspections in dark conditions.
Optional snap-on and snap-off flood lenses for broader area illumination applications are also available for both lamps and produce a more diffused beam with a 35-degree angle. These lenses are convenient accessories for scene lighting and for illuminating work sites.
Stryker ST and Golight GT remote-controlled LED work lamps are available in a variety of wireless and hard-wired versions and a range of permanent and portable magnetic mounting options. Remote controllers for both lamps also come in a variety of styles. The lamps come in 12- and 24-volt versions.
Both Stryker ST and Golight GT remote-controlled LED work lamps have hermetically sealed lamp structures and come with a high-impact, UV-ray-resistant and saltwater-resistant housing suitable for land and marine applications. The Stryker ST comes with a five-year unlimited warranty, and the Golight GT comes with a three-year unlimited warranty. Like all its products, these lamps are supported by Golight's unparalleled customer service department, which prides itself on accessibility and effectiveness.
"Golight invented the pan-and-tilt remote-controlled lighting industry more than 25 years ago and continues to lead in performance, innovation and product depth," Hosick said. "With the introduction of our new 544,000 candela Stryker ST and Golight GT remote-controlled LED work lamps, we've set another new standard in the industry."