Material Handling: Columbus McKinnon Heavy-Duty Crane Hooks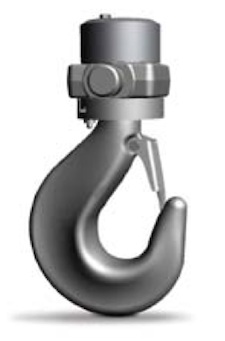 Product line includes single- and double-hook configurations with capacities up to 1,250 metrics tons.
If you need a strong and durable crane hook designed to globally recognized DIN standards, turn to Columbus McKinnon Corporation's new line of CM Heavy-Duty Crane Hooks. CM's comprehensive line of rigging attachments now includes heavy-duty crane hooks in both single and double configurations with capacities up to 1,250 metric tons.
The line includes standard forged hooks, hooks with extended shafts, custom-designed hooks, complete hook suspensions and high-quality machined and un-machined products for a variety of industrial applications.
See the complete CM Heavy-Duty Crane Hook product offering on the website.
In January 2015, Columbus McKinnon acquired Stahlhammer Bommern GmbH (STB), Europe's leading manufacturer of lifting tools and forged parts designed to withstand heavy static and dynamic loads. Now available to the North American market under the name CM Heavy-Duty Crane Hooks, this offering combines Columbus McKinnon's more than 140 years of material handling experience with over a century of rigging manufacturing expertise from STB.
"When it comes to heavy-duty crane hooks, we bring something unique to the market, and we are excited to share these products with our customers," said, Steve Vitello, Executive Director of Sales and Marketing, CMCO Hoist and Rigging – North America. "Our company has a rich history of designing and manufacturing premium chain and rigging products and, with the introduction of our new heavy-duty crane hooks, we are uniquely qualified to address all of our customers' rigging needs."
"Through a unique combination of open-die and drop forging, machining and tool-making capabilities, we are able to turn pre-formed steel billets into finished, geometrically complex products quickly and efficiently, while ensuring the highest levels of quality and availability," said Tim Lewis, Business Development Manager. "Our drop forging offers shank hooks up to size no. 63 and ramshorn hooks up to size no. 125. Through open-die forging, we are able to provide shank and ramshorn hooks up to size no. 400. And, with in-house manufacturing and our own tool shop, we're able to deliver competitively priced quality products with some of the shortest leads times in the industry."
For more information on CM Heavy-Duty Crane Hooks, contact Tim Lewis at tim.lewis@cmworks.com or by phone at 731-614-3728. Comprehensive information on Columbus McKinnon is available on its website at www.cmworks.com.